As you guys already know, I am an avid WWer – I've been following the plan for years and have lost a total of 60 pounds!  I began way back in the day on the Weight Watchers Points Plus program and I've seen the company switch to SmartPoints, Freestyle, and most recently, go through a total re-branding to become the most well-rounded program to date.  The updated WW program focuses on overall health and wellness as opposed to just weight loss, and it is amazing!  As you can imagine, I've picked up a few tips and tricks over the years and I've discovered tons of WW-friendly products that have become staples in my home.  Since so many people join WW at the beginning of the year, I thought it would be helpful to share some of these things!  It's also one of the most frequent questions I receive messages about over on Instagram.  Let's get right into it, shall we?!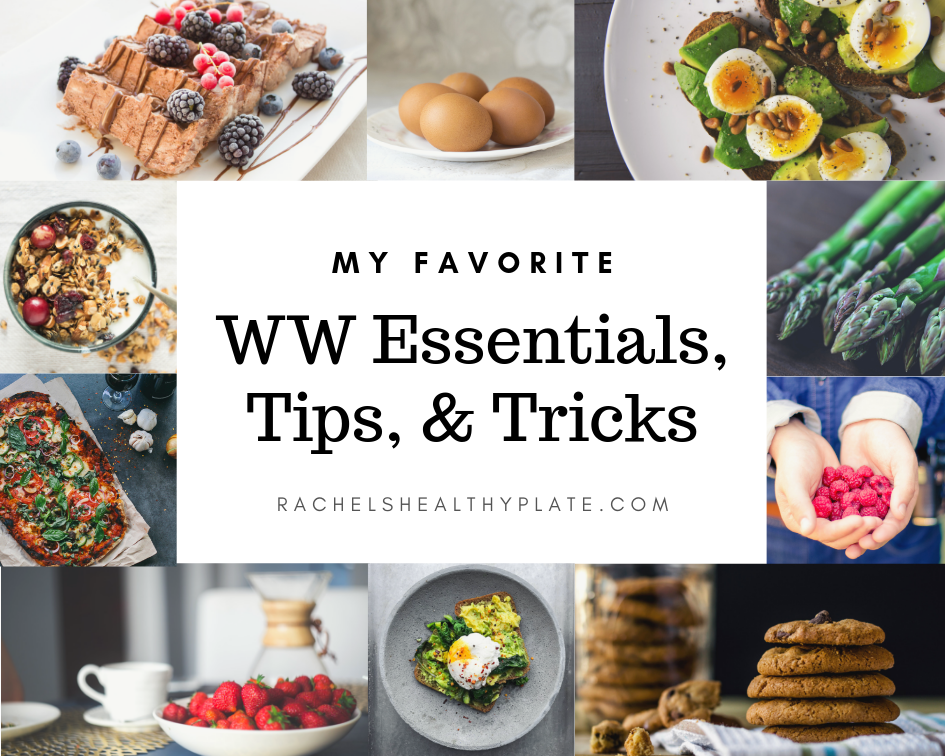 Tips For Newbies:
Keep things ASAP (As Simple As Possible) in the beginning.  You'll get A LOT of info in the first few weeks of the program so it's important not to overwhelm yourself while you are just getting your feet wet.  If you need to live off of canned soup and frozen veggies for the first couple of weeks, that a-okay.  Do whatever it takes to make sure you stay on plan while you are learning the ropes.  When I first started the program I only worried about food for the first month or so.  After I got the hang of the points, I started working on incorporating exercise.  Whatever works for you and your lifestyle, do it.  Don't try to overhaul everything in one week.
Grab a sharpie! Scan all the products in your pantry and fridge and write the points right on it.  When you're planning meals it makes things a million times easier when you know the points at first glance.  Keep doing this for new products you buy at the store too – just write the points on it as soon as you get home.  After a month or so you'll pretty much know all the points to your favorite foods!
Pre-portion your snacks or trigger foods.  As soon as you get home from the store, go ahead and divide out single serve portions of your snacks for the week.  Use small containers or bags and write the points on the bag.  This makes things super convenient when you're in starvation mode, making it easier to make a healthy decision vs grabbing anything out of desperation.  It also makes it less likely you'll over eat the snacks since you won't mindlessly be grabbing a handful here and there.
Try to make one recipe each week that will freeze well and double it.  Store single serve portions in the freezer for easy lunches and quick meals for those days you find yourself in a pinch.  Casseroles and soups usually freeze fantastic and you all know how much I love my soup recipes!
Use online grocery ordering and pick up if it's available in your area.  I fell in LOVE with Walmart pick up this past year and use it as often as possible.  Not only does it save me time and make price comparing super easy, but it stops me from buying impulse items that I don't need.  Oh! And it's free if you spend at least $30.  #score
Buy a food scale and use it as often as possible.  I can't stress this enough and for so many reasons:

1) You get more bang for your points on lots of things (I'm looking at you, avocado!) 
2) You can easily measure things by using grams and removing a serving from the container which saves you from using a million measuring spoons and cups! (For example: place a jar of PB on the scale, zero it out, and remove 1 servings worth of grams…. so the scale will measure -28g, etc. Your dishwasher will thank you.)
3) It makes figuring out exact serving sizes sooo much easier.  Whenever I make a recipe I place my storage container on the scale and zero it out.  I add the food for the full recipe to get the weight in grams and then divide that total by my number of servings.  Now I have an exact weight, down to the gram, of each serving.  This makes things so much easier when you are having things like soups and pastas that can be hard to measure. Here's the food scale I have (comes in several colors)!

Kitchen Must Haves:

Favorite WW Food Staples:
Nabisco Corn Thins – you can have 41 for 3 SmartPoints.  They're a great substitute for tortilla chips and go great with chili, my favorite 0 point Southwest Chicken Soup, or dunked into some of my Creamy Avocado Sauce as a fake out for chips and guac.  They kind of taste like a cross between a frito and a tortilla chip.  Oh so good!
Joseph's Pita Bread – 1 SmartPoint per pita.  I love using these for sandwiches, pizzas, hummus pita pizzas, or making pita chips in my air fryer.  The 2 point lavash is also good for big wraps – I love making chicken caesar wraps with them!
Jif Whips – Jif's whipped peanut butter tastes just as great as regular peanut butter but it's only 2 SmartPoint per tablespoon.  They also have a chocolate version that is insanely dangerous.  You can melt both down to drizzle on apple nachos, oatmeal, pancakes, etc.
Laughing Cow Cheese – I loooove using Laughing Cow Cheese wedges in place of mayo or sliced cheese on a sandwich.  It comes in so many flavors and they're just 1 SmartPoint each.  I have so many uses for this – I make little snack plates with a wedge of cheese, a few crackers, and some grapes, I mix it into my Easy Cheesy Grits, I use it to make my 1 SmartPoint Buffalo Tuna Salad (also great with shredded chicken!), use it in omelets or with eggs, on breakfast sandwiches, on my favorite turkey, apple, and swiss sandwich…. seriously, the possibilities are endless.
Trader Joe's Lite Shredded Mozzarella – if you live near a TJ's you HAVE to get over there to get this cheese.  You can have a little over an ounce for 1 SmartPoint and it tastes just as good as the regular stuff.
Trader Joe's Crisps – these little crackers come in several flavors and you get a lot for the points.  They are extremely tasty and go perfect with cheese snack plates and of course, my fav chicken salad plates.  If you don't have a TJ's near you, Triscuit Thin Crisps are also a yummy cracker.
Vermont White Cheddar Mac & Cheese by Lean Cuisine – If you follow me on Instagram you already know this is one of my favorite meal hacks.  Here's a bunch of ways I bulk up this frozen meal when I'm in a hurry.
Dak's Spices – these salt free seasoning blends are amazing and they're great for adding a ton of flavor to dishes without adding extra ingredients that add points.  They come in so many varieties it's impossible to get bored even if you're just using them to jazz up your chicken and veggies!

You can get 10% off your order by using code "Rachel10" at checkout.

Two Ingredient Dough – 5 WW SmartPoints (plus points for toppings!) for a decent sized homemade pizza.  The possibilities with this dough are endless… it's a WW MUST!  You can search google to find lots of yummy ideas or check out a few recipes I've made using the dough like my Spinach and Chicken Calzone, Rustic Tomato Pizza,  Apple Hand Pies, Broccoli,Ham, and Cheese Hot Pockets, and Mini Pretzel Dogs.
Gilbert's Craft Sausages – I love keeping these sausages on hand for quick protein.  They're super flavorful, versatile, and you simply heat and eat.  I love using them for breakfast and have lots of recipes using them.  Other precooked sausages are great too but these are my favorite because they're individually wrapped which means I don't have to hurry and finish a package as soon as I open it – so convenient! Plus they come in lots of flavors, including a couple of breakfast varieties, they're made with great ingredients, and they're 2-3 SmartPoints per link. #SoManyWins

Favorite WW Salty/Savory Snacks:

Favorite WW Sweets:
I'll be adding to this list over time as I discover new favorites! Leave a comment below and let us know your fav WW must haves – I always love learning about new things!