This is the last chili recipe you'll ever need.  I know that may sound like quite a bold statement but trust me, it's that good!  Once you try this recipe you'll be wondering, a) how in the world this chili is 0 (ZERO!!) WW Smart Points (*chili is zero points on the Blue WW plan) and b) if it's actually made with turkey?!  I'm seriously not sure I'd be able to tell the difference if I did a blind taste test.  I came up with this recipe a couple of years ago, back in the day before lean turkey was 0 smart points on the newest freestyle program.  It was great then but the fact that the whole pot is now 0 points?!  It's even better!  Turkey chili is 0 Blue WW SmartPoints/5 Green WW SmartPoints per serving.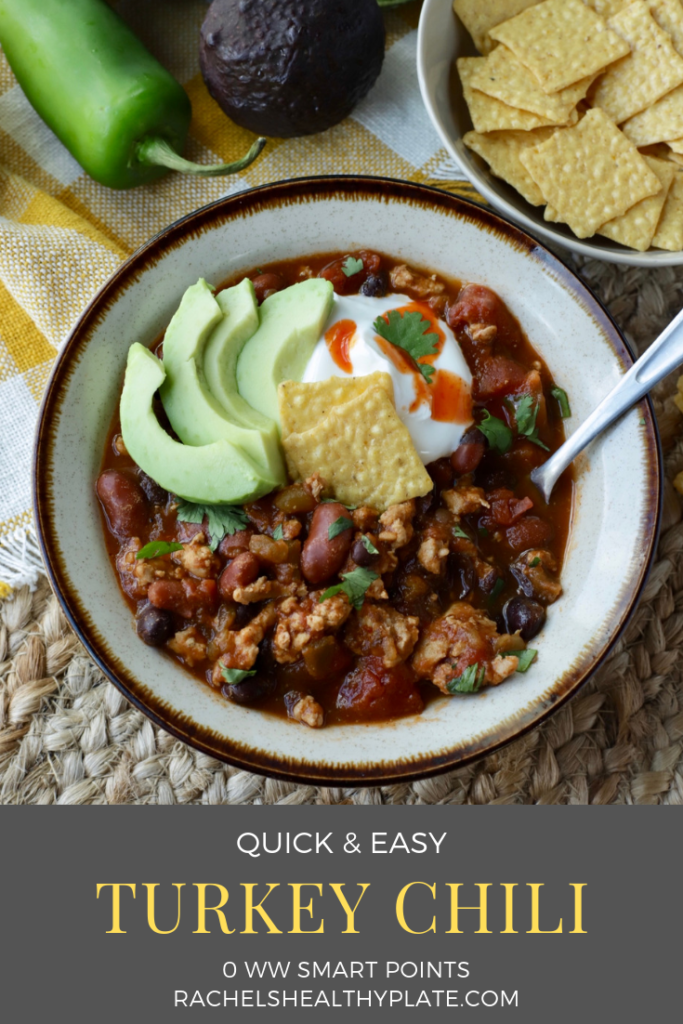 The recipe is simple to make and it freezes wonderfully!   I usually make a double batch so I can freeze individual portions for quick meals.  This is one of those recipes that gets even better when you serve the leftovers.  It's a staple in our house during the fall and winter – perfect for chilly days and football games!  Last year I made a game day chili bar and it was a hit!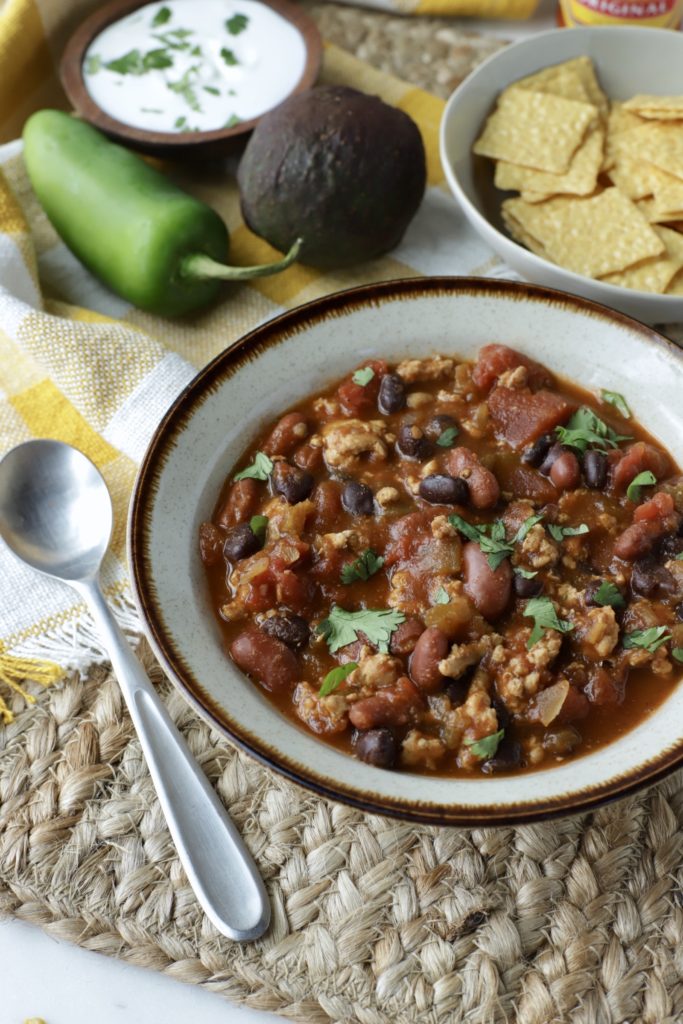 The hardest part is deciding what to top it with – since it's 0 points you really get to have fun here!  Here's a whole bunch of yummy suggestions:
Tortilla chips,  Nabisco Corn Thins (I love these because you can have 41 pieces for just 3 smart points!), or Fritos
Classic saltines or oyster crackers
Goldfish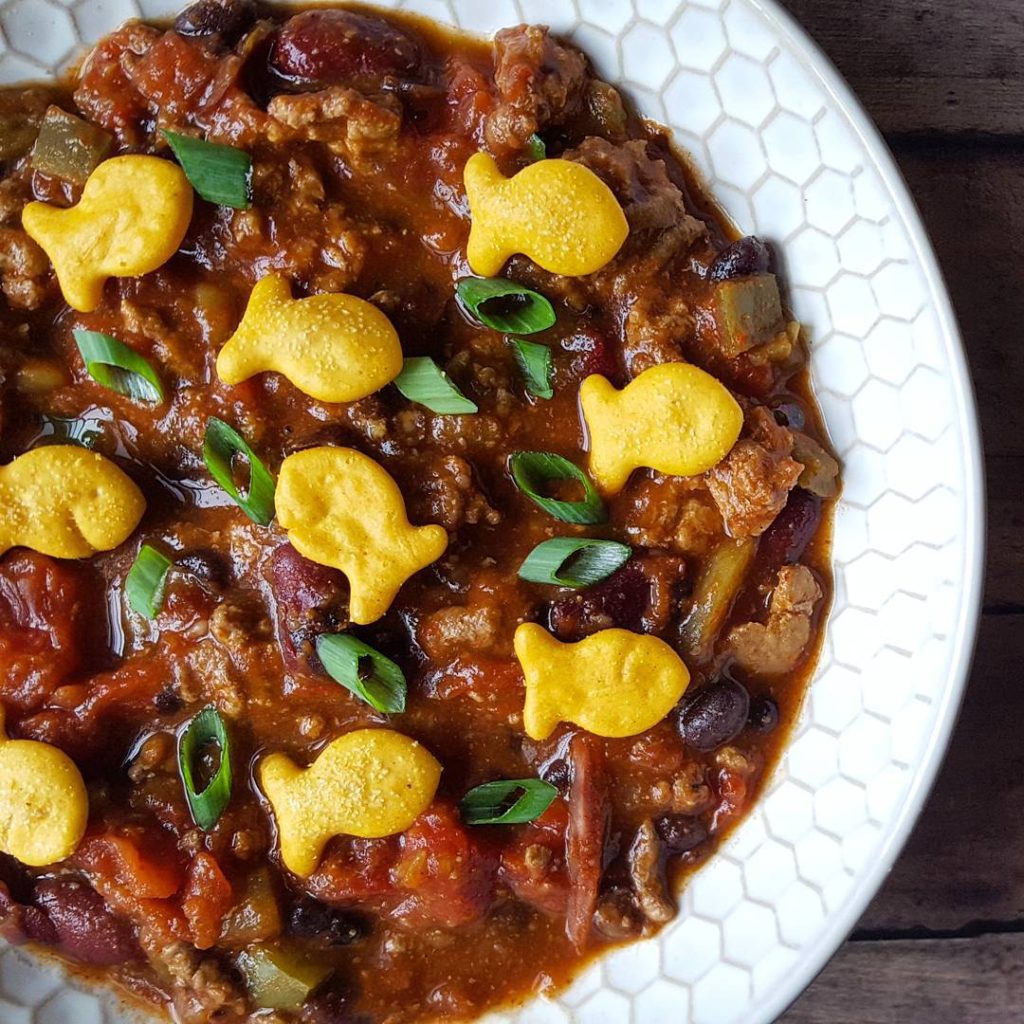 Avocado or guacamole
Fresh Tomatoes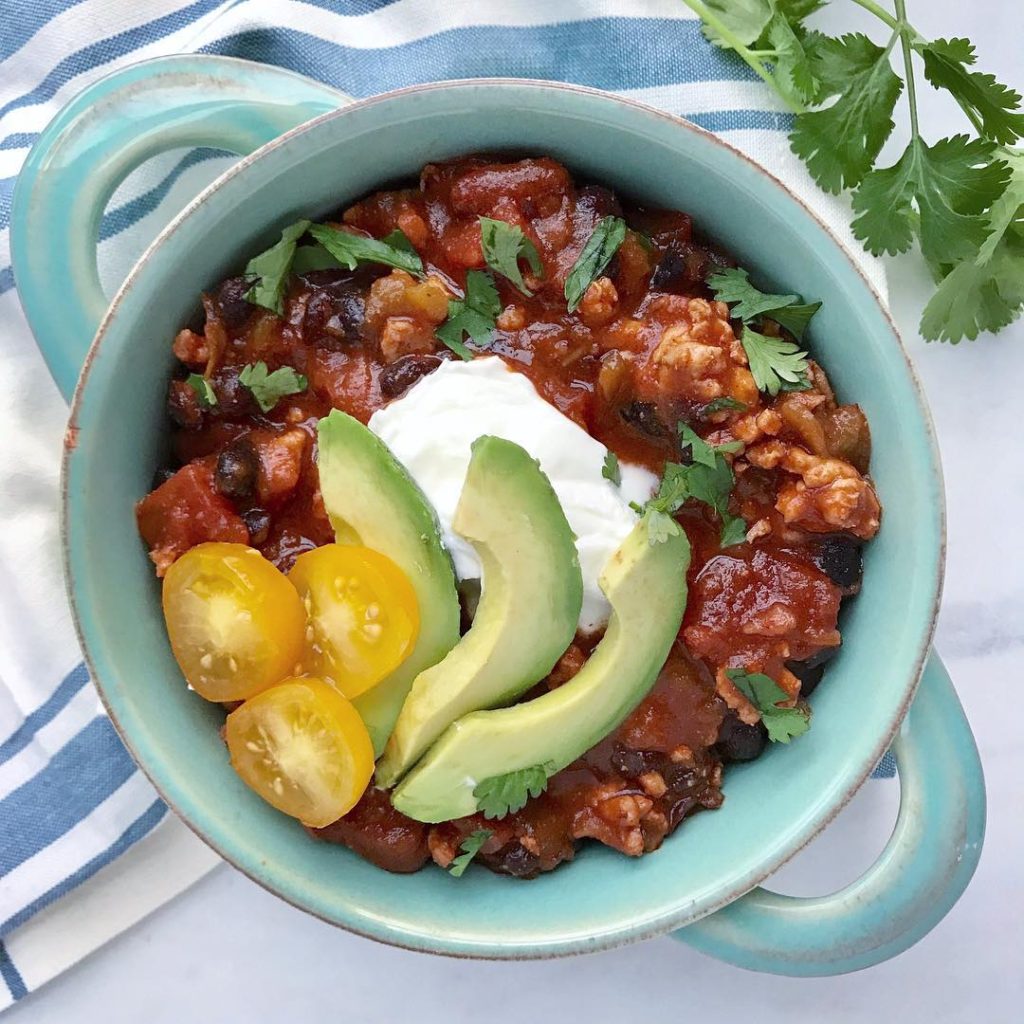 Shredded Cheese
Jalapenos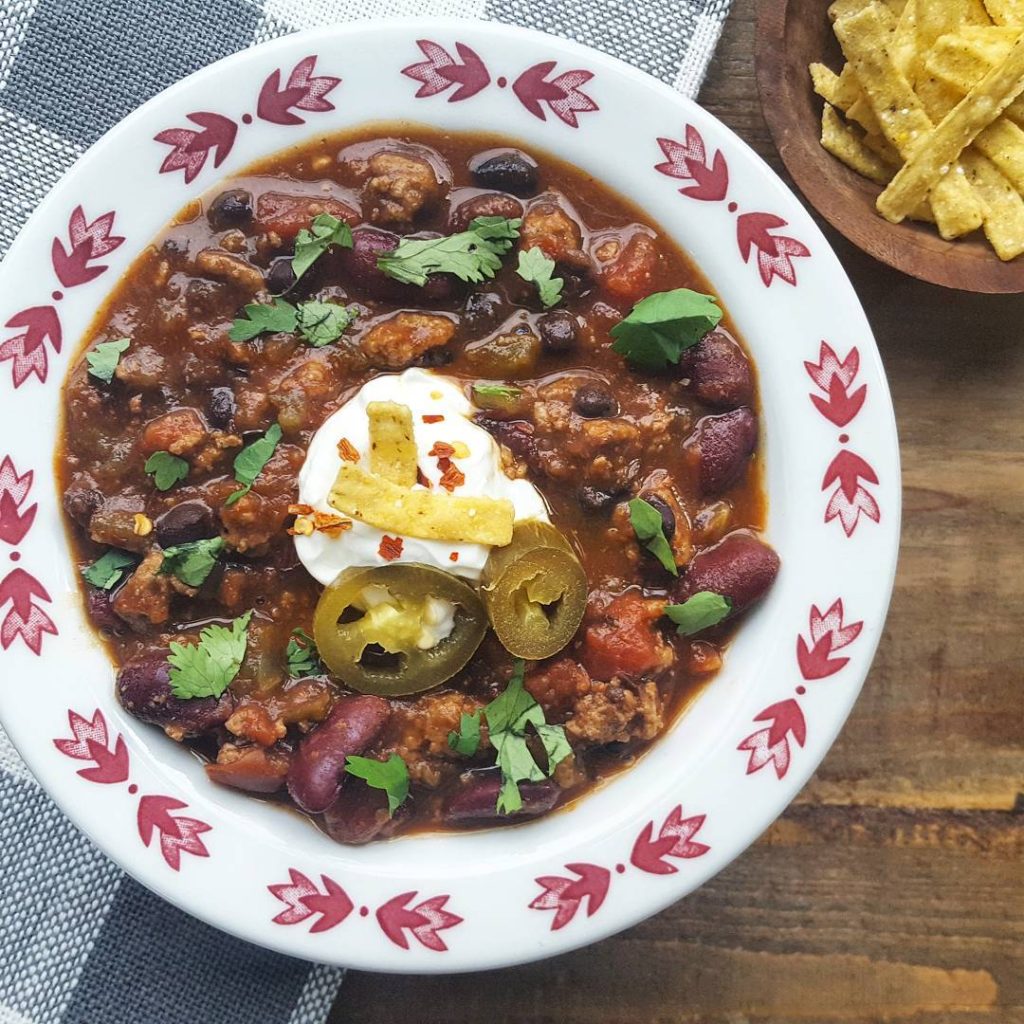 Hot Sauce
Greek yogurt or sour cream
Cilantro, green onion, fresh lime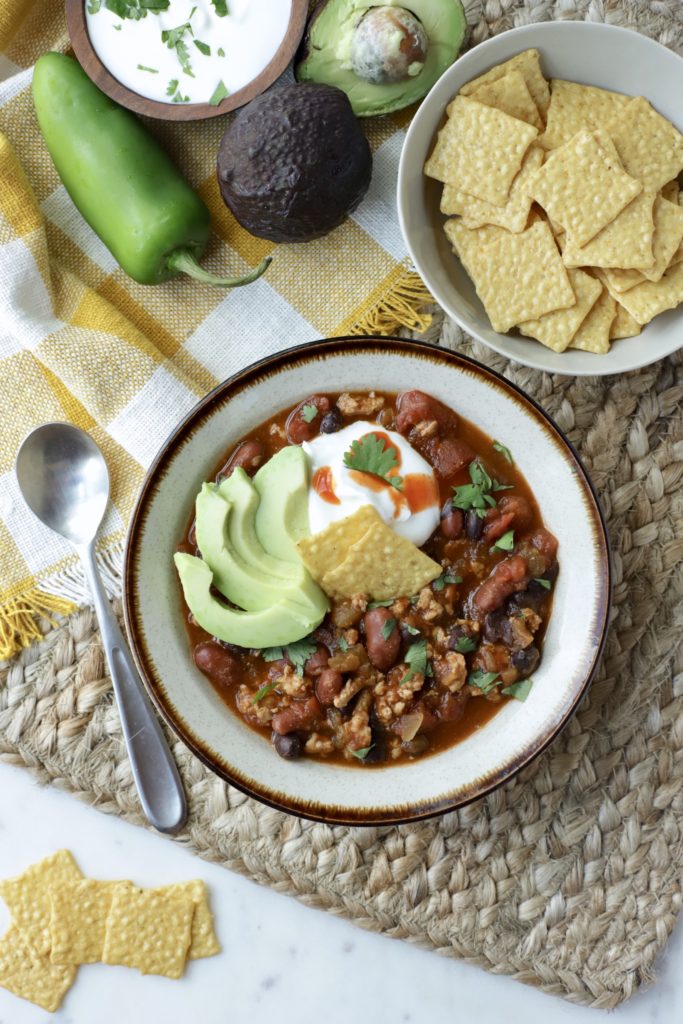 I also have fun coming up with unique ways to serve leftovers:
A loaded sweet potato or baked potato – top with chili, cheese, greek yogurt, or avocado!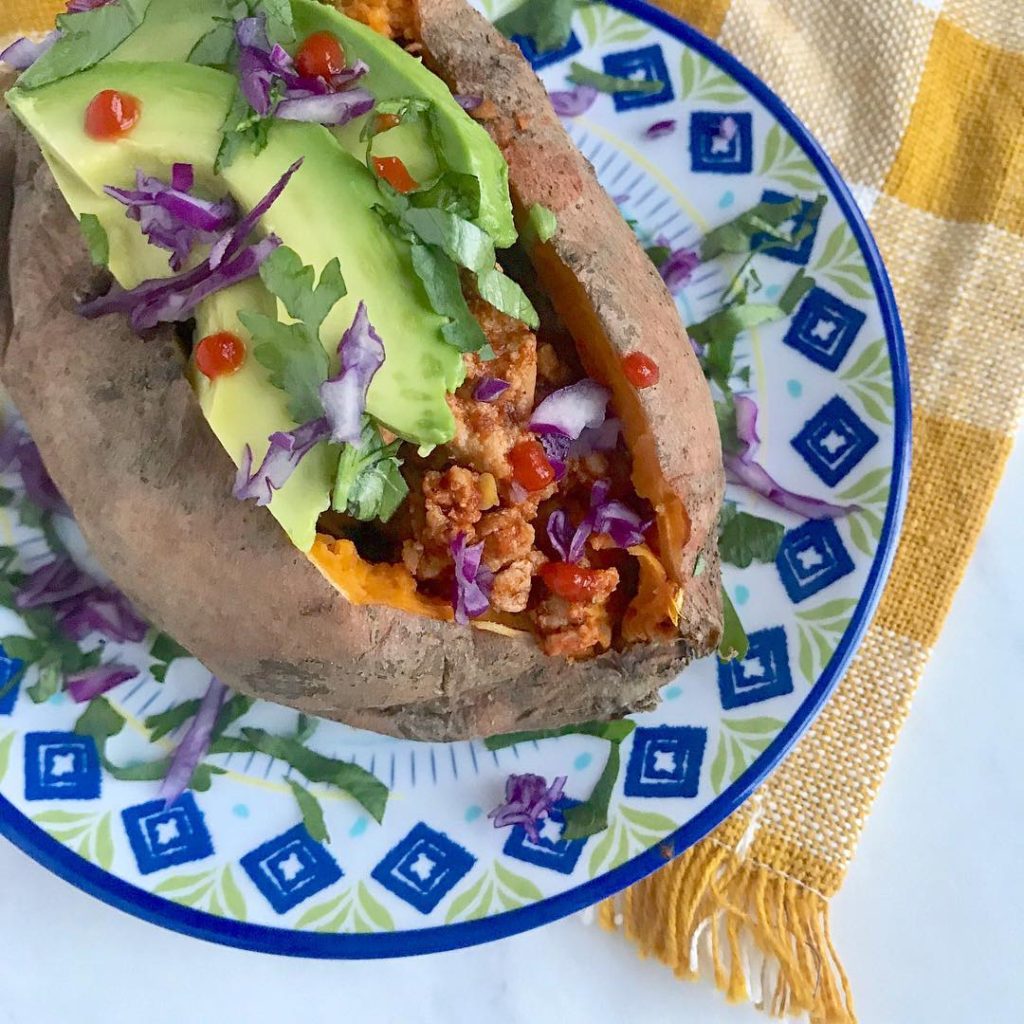 Served as a DIY "You Pick Two" with half of a sandwich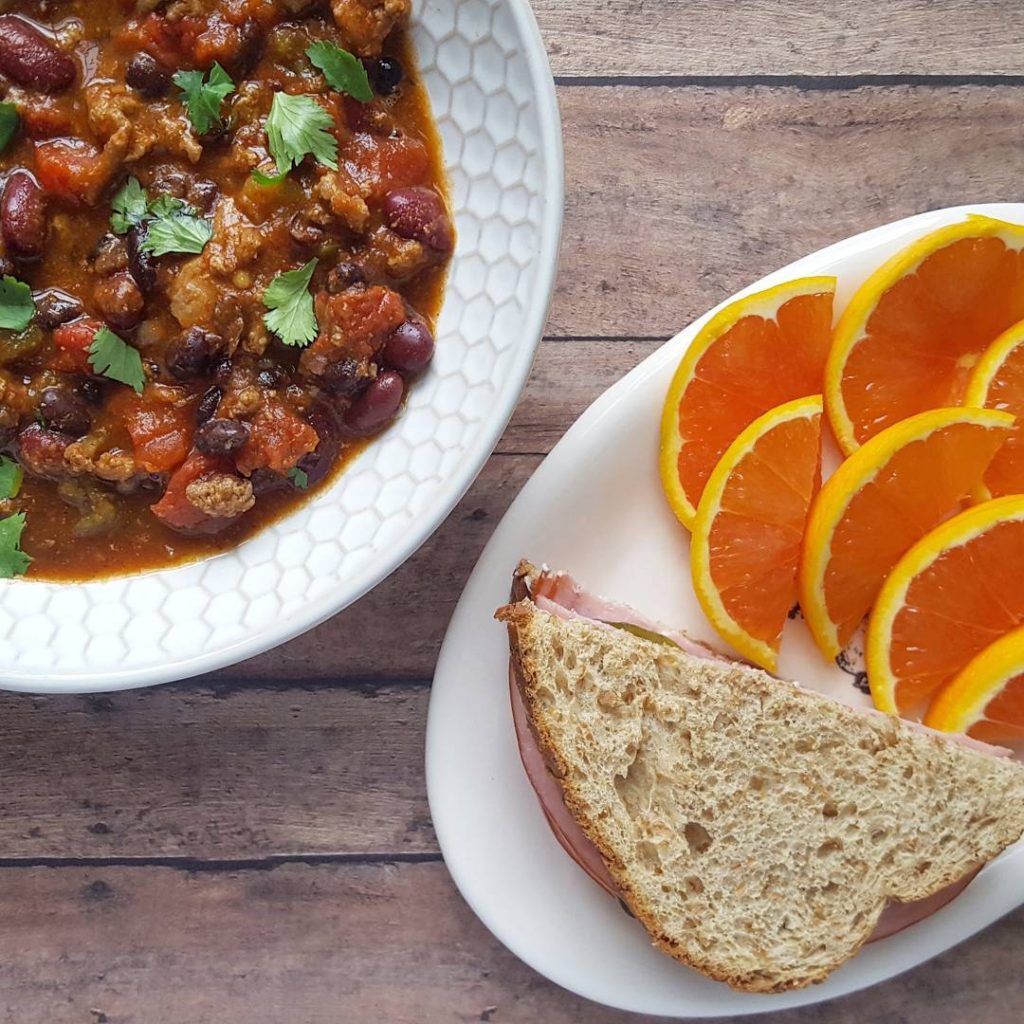 In a delicata "bowl" – 1/2 of a roasted delicata squash filled with chili (seriously, try it!)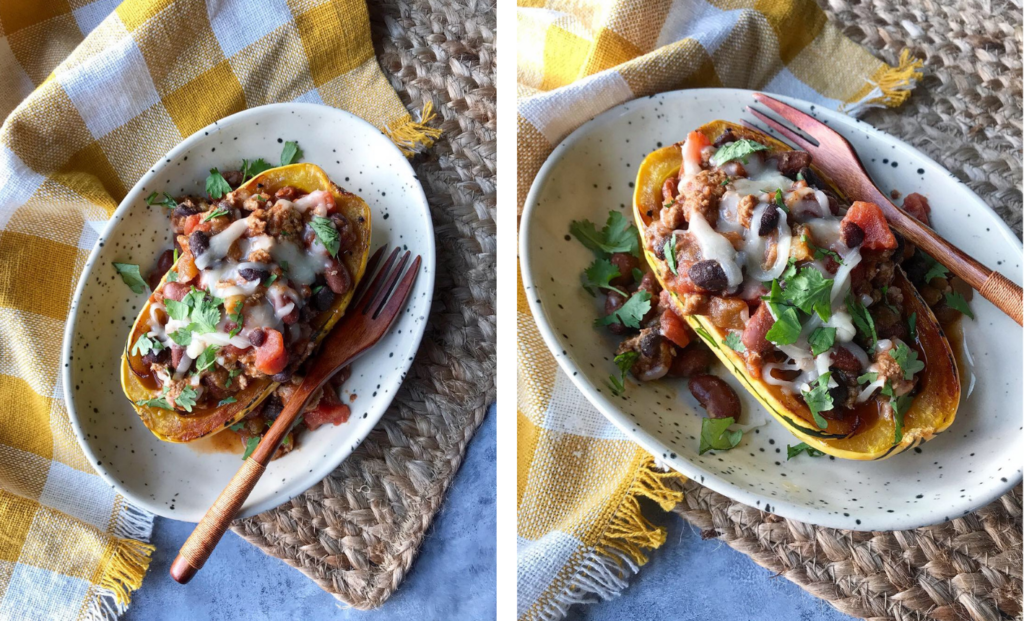 Cincinnati Style – aka on top of spaghetti
As a chili bar for parties and tailgating
Chili cheese fries or tatertots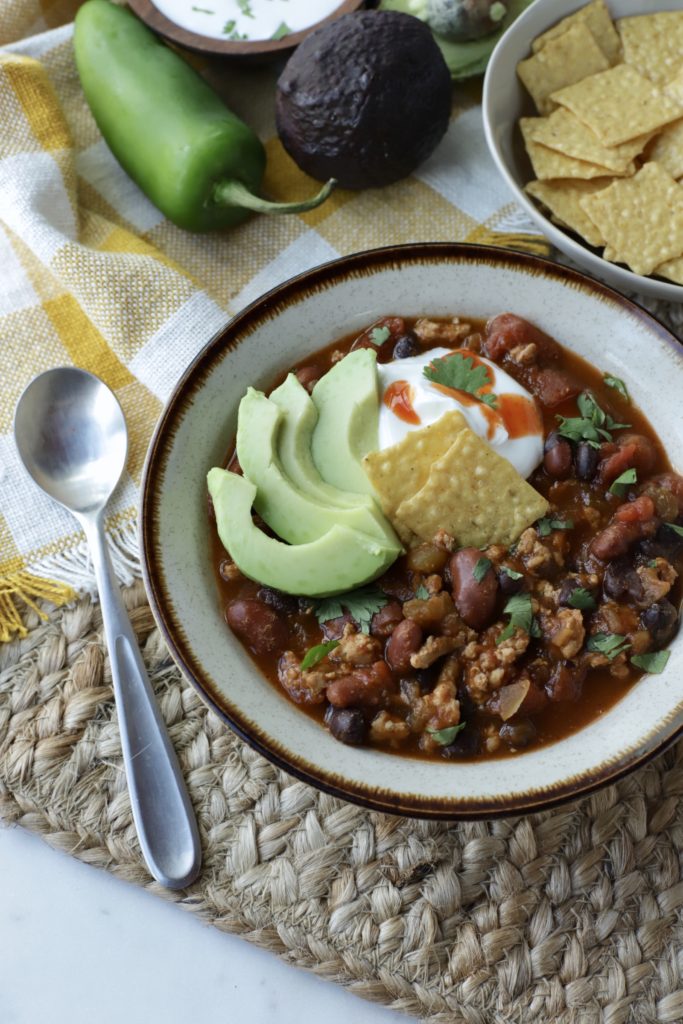 Give it a try and let me know what you think – I promise you won't be disappointed!  The entire batch is 0 Blue WW Smart Points.  I usually divide mine into 5 servings, ~1.5 cups/serving which is 5 Green WW SmartPoints each.  Enjoy!

Quick & Easy Turkey Chili
Author:
Rachel's Healthy Plate
Ingredients
1 lb extra lean ground turkey, 99% fat free
2 15 oz cans of chili ready diced tomatoes (they are pre-seasoned)
1 15 oz can low sodium beef broth
1 4 oz can diced green chilies
1 15 oz can black beans, drained and rinsed
1 15 oz can kidney beans, drained and rinsed
1 green pepper, diced small (or use 1 cup frozen green pepper)
¼ tsp salt
¼ tsp pepper
1 tbsp chili powder
1½ tsp cumin
½ tsp garlic powder
½ tsp onion powder
pinch of crushed red pepper, to taste
Instructions
Spray a large pan with cooking spray and heat over medium heat. Add turkey and brown, breaking apart into small pieces. Add the salt and pepper to the browning turkey.
Once turkey is about halfway cooked add in the green pepper and cook a few minutes longer.
Next add in the remaining ingredients - tomatoes, beef broth, green chilies, beans, chili powder, cumin, garlic powder, onion powder, and crushed red pepper.
Bring chili to a boil and then reduce heat to low.
Simmer uncovered on low heat for 30 minutes until chili is thick. Enjoy!
Notes
Entire batch of chili is 0 Blue WW Smart Points - divide as you wish! I divide mine into 5 servings, ~ 1.5 cups / serving, which is 5 Green WW SmartPoints each.

Variation - If you like corn feel free to try some in the chili. Add 1 can of drained corn. This will not change the points value.

Nutritional info shown is for ⅕ of the chili recipe.

Nutritional information is calculated with MyFitnessPal and may vary based on brands used. Smart Points information is calculated with the Weight Watchers app and may also vary based on brands used.
Nutrition Information
Serving size:
⅕ of the recipe, ~1.5 cups |
Calories:
312
Fat:
2
Saturated fat:
0
Carbohydrates:
40
Sugar:
12
Fiber:
9
Protein:
33
I am so excited you are making one of my recipes and I would love to see how it turns out! Make sure to share it on Instagram and tag me @rachelshealtyplate and use #rachelshealthyplate so I can see your creation!