This is too easy to really be considered a recipe but I had to share it with you all because if you haven't made tortilla chips in the air fryer, well, you are very sorely missing out. While these may not be the exact same as the big basket of warm, fresh chips from a Mexican restaurant, it certainly tastes good enough to satisfy any craving for them!  AND you can make them at home… in 5 minutes… in your pajamas…. with your own pitcher of margaritas!  AND since they're not technically fried, you can feel good about chowing down on a big plate.  You can have 24 chips for 4 WW SmartPoints for both the Blue and Green WW plans.  That's a great deal!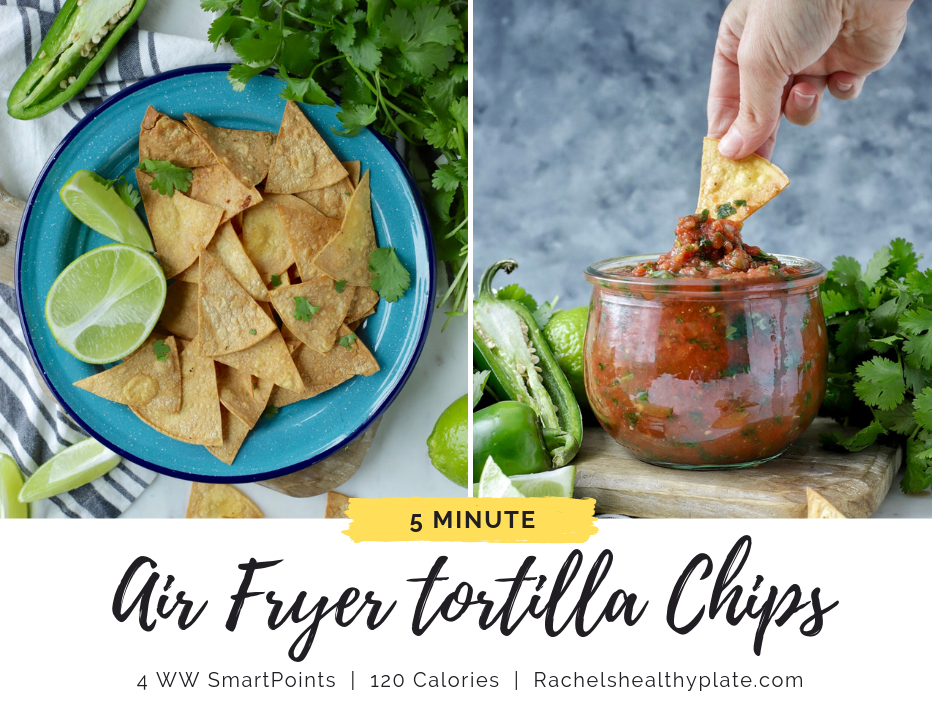 My favorite way to serve these chips is dipped into a big bowl of my 0 Point Blender Salsa or served with a side of my Creamy Avocado Sauce for 2 WW SmartPoints.  Despite the fact that these chips are air-fried, they're every bit as crunchy and satisfying as the real deal.  Actually, I'd pick these chips most days because I like to let my chips get a little extra toasty – I love the slightly brown, nutty flavor!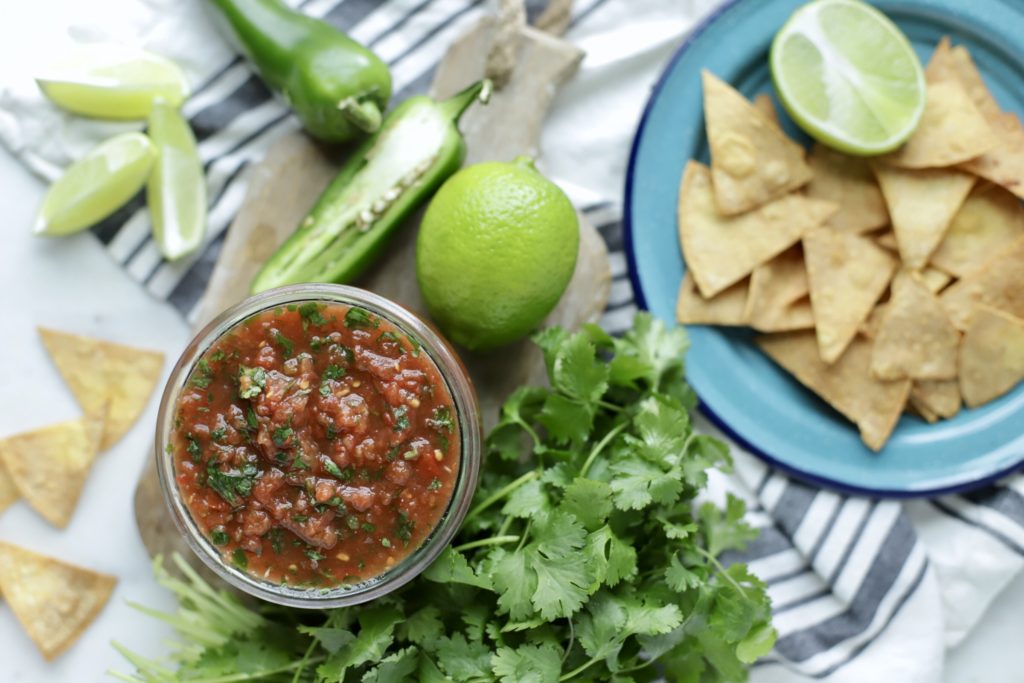 I also love to make a big plate of nachos with them.  We do this often for game nights and it never disappoints.  Plus, it's a great way to clean out your fridge at the end of the week if you have a bunch of random meat and veggies leftover.  Just throw in some spices and pile it on top with a little cheese – SO GOOD!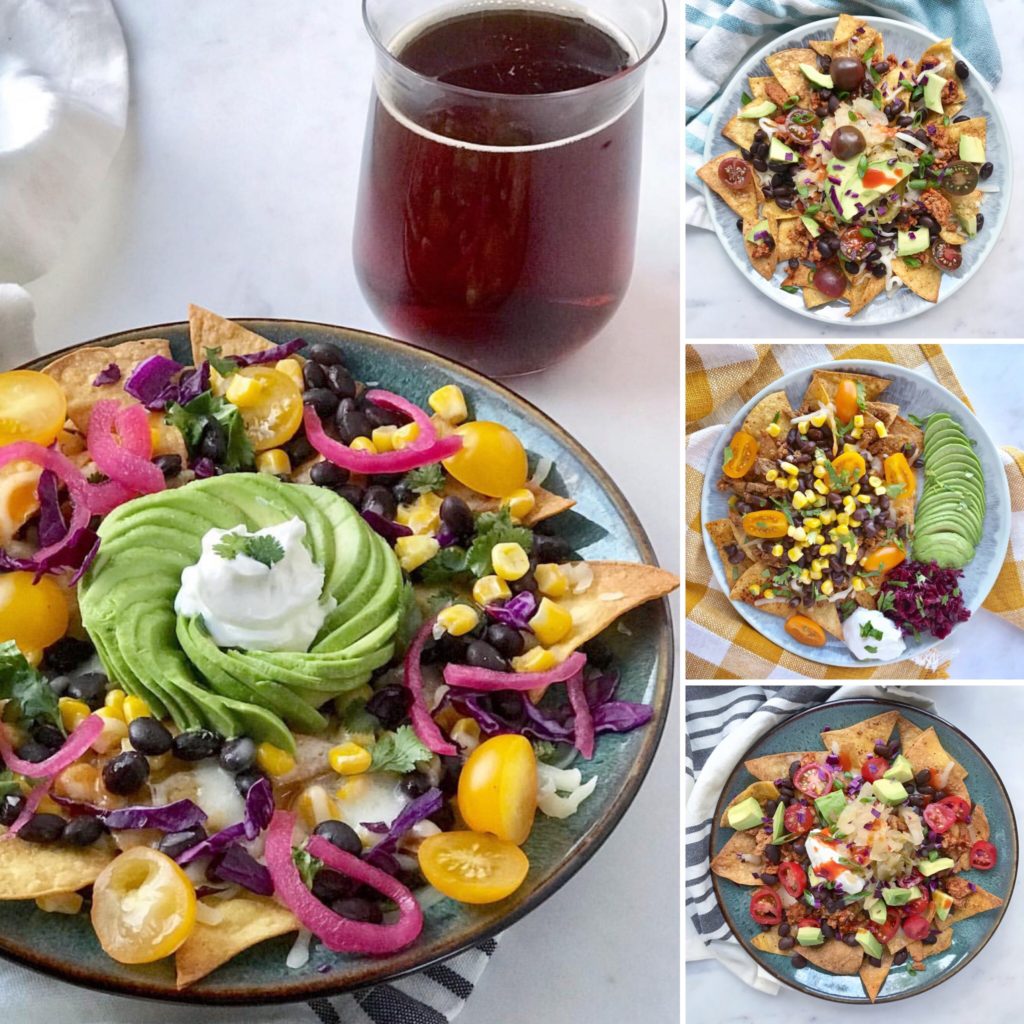 This recipe is written for 1 serving (24 chips) so if you want more than that, just multiply it.  One serving is 4 WW SmartPoints on both the Blue and Green WW plan or 120 calories. Make sure to give give these a try with my 0 Point Blender Salsa – enjoy!
Looking for more ways to enjoy these tortilla chips? They make a great side to these delicious soups: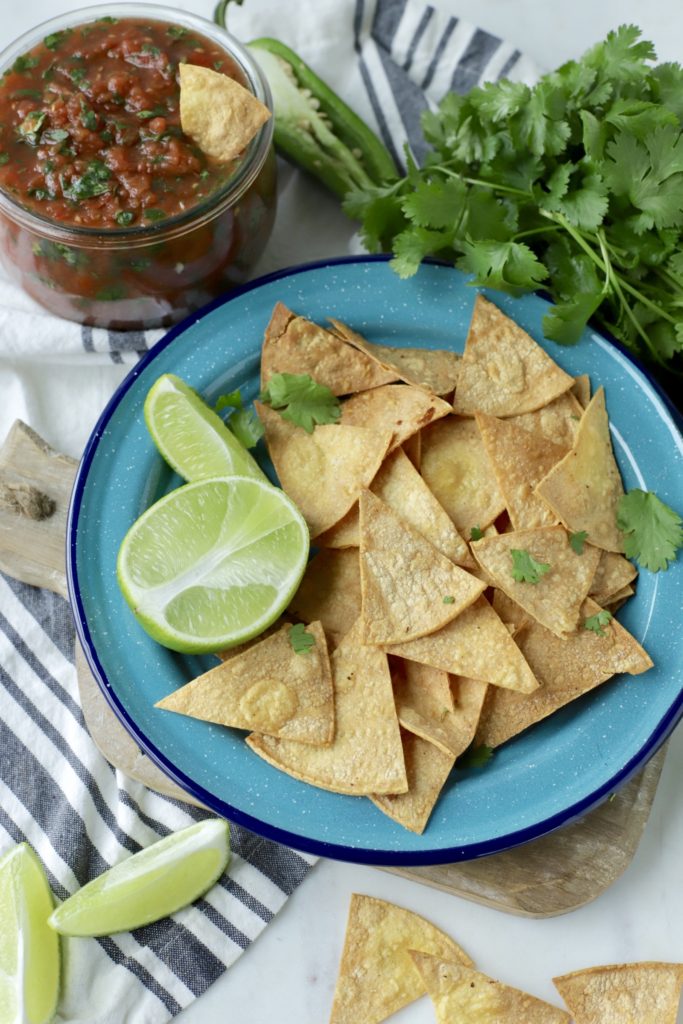 Note: I currently have a Farberware brand air fryer. 

Quick Air Fryer Tortilla Chips
Author:
Rachel's Healthy Plate
Ingredients
3 extra thin corn tortillas (I use Mission brand extra thin corn tortillas*)
Olive Oil Spray
Salt, to taste
Instructions
Cut each tortilla into 8 triangles. Lay flat on a baking sheet.
Spray the triangles lightly with olive oil spray and sprinkle with salt, to taste. (Some of the salt falls off while cooking so I'm usually a little more heavy-handed than normal).
Place triangles into the air fryer - spread the out as much as possible so the layers aren't directly on top of each other.
Cook at 360F, shaking the basket often, for 4-5 minutes, until very crispy and just slightly brown. (Watch closely at the end because they will get brown very fast. Be sure to shake often so they don't stick together and all surfaces have a chance to get crispy). Enjoy!
Notes
Makes 1 serving of Airfryer Tortilla Chips at 4 WW SmartPoints on both the Blue and green WW plans.

*If you use a different brand you may want to double check points values*

Points info: 3 tortillas (24 chips) = 4 WW SmartPoints, 4 tortillas (32 chips) = 5 WW SmartPoints

Cooking Note: I don't recommend cooking more than 3 tortillas at once. If I want more than 3 tortillas I do multiple batches.

Nutritional info shown below is for 1 serving (24 chips) using the Mission Extra Thin Corn Tortillas.

Nutritional information is calculated with MyFitnessPal and may vary based on brands used. Smart Points information is calculated with the Weight Watchers app and may also vary based on brands used.
Nutrition Information
Serving size:
1 serving | 24 chips |
Calories:
120
Fat:
2
Saturated fat:
0
Carbohydrates:
24
Sugar:
3
Fiber:
4
Protein:
3
I am so excited you are making one of my recipes and I would love to see how it turns out! Make sure to share it on Instagram and tag me @rachelshealthyplate and use #rachelshealthyplate so I can see your creation!