Please tell me you know about the magic of blender salsa?!  I remember the first time I made blender salsa years and years ago – it straight up blew my mind.  I had no idea that restaurant-style salsa was so easy to make at home!  I always wanted it … I just had NO CLUE.  Jarred salsa always had a funny taste to me so I was never quite happy with it.  Now that I have my own salsa recipe? I can't even remember the last time I bought a jar of salsa.  Seriously, ya'll, if you haven't made blender salsa this recipe will change your life.  The best part?!  It's 0 WW SmartPoints on both the Blue and Green WW plans and just 12 calories for 1/4 cup.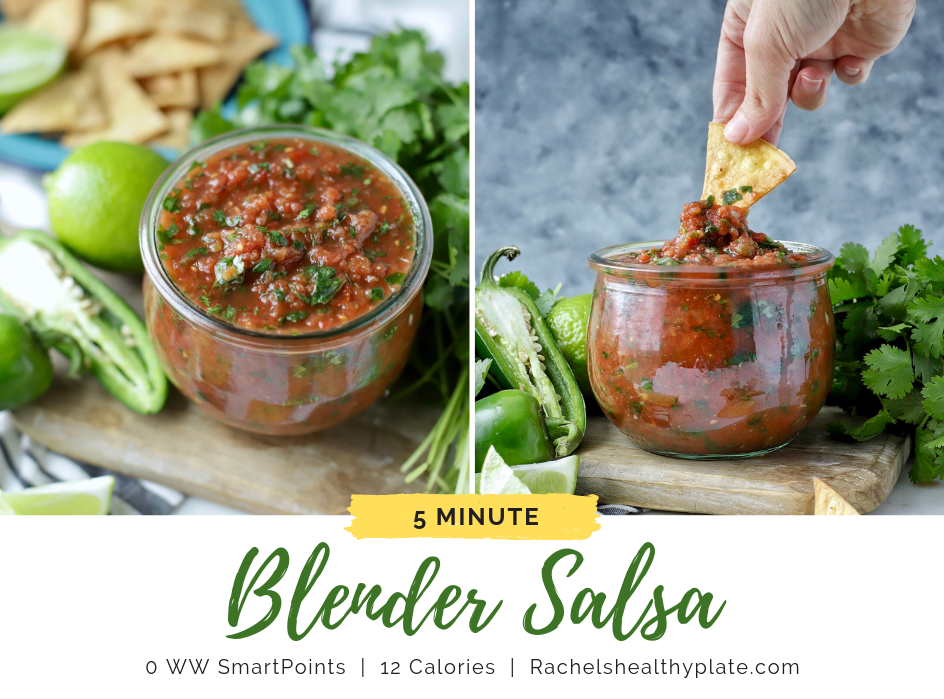 Over the years I've perfected my blender salsa recipe and it literally takes just a couple of minutes to throw together.  Need a party dish? Perfect! Need a very last minute potluck dish because you forgot? Salsa! Game day? Salsa! It's the answer to everything.  It's also great to meal prep at the beginning of the week because you can find about a million uses for it.  It's great over eggs for breakfast or served with a taco salad for lunch.  I love making a quick batch of Airfryer Tortilla Chips and having some as an afternoon snack (also great with Nabisco Corn Thins if you don't want to make your own chips – 41 corn thins are 3 SmartPoints!).  You can make salsa chicken in the crock-pot, throw it on tacos, fajitas… like I said: A MILLION USES.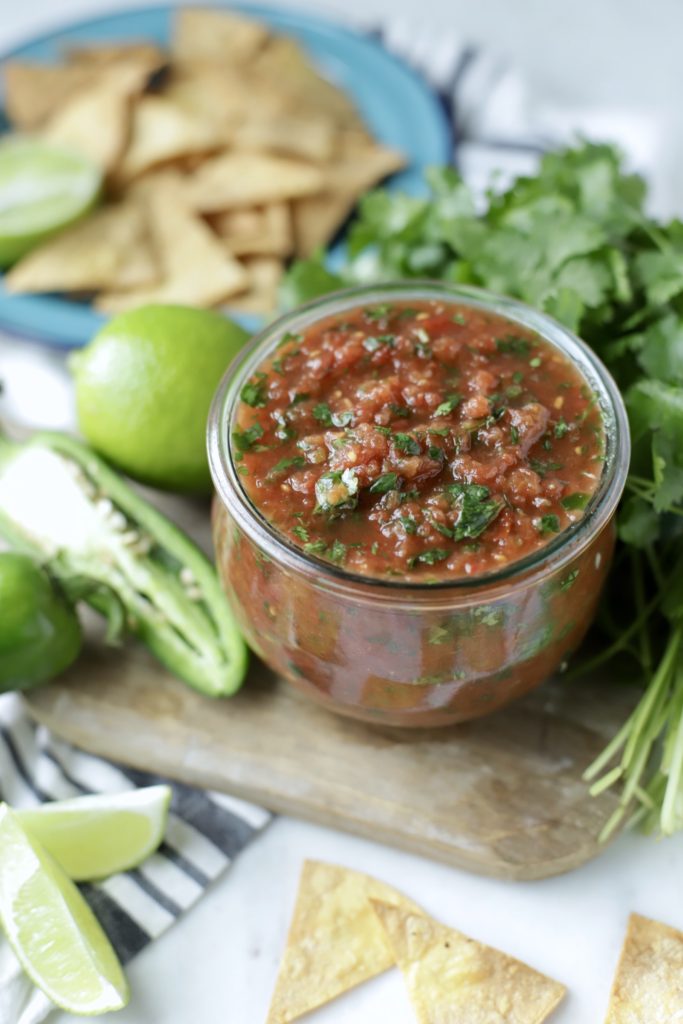 The ingredients list is pretty short – here's what we'll need: 2 cans of Rotel, 1 clove garlic, 1 jalapeno, 1 lime, fresh cilantro, cumin, and salt.  My recipe is onion-free because I'm not a huge fan of raw onion in salsa (I find it overpowering) BUT if onion is your jam, feel free to throw in 1/4 of a small onion too.  To make the salsa everything gets throw in the blender – the end.  I like to let mine sit for an hour or so if I have enough will power not to dig straight in – the garlic, jalapeno, and cumin need a little time to do their thing.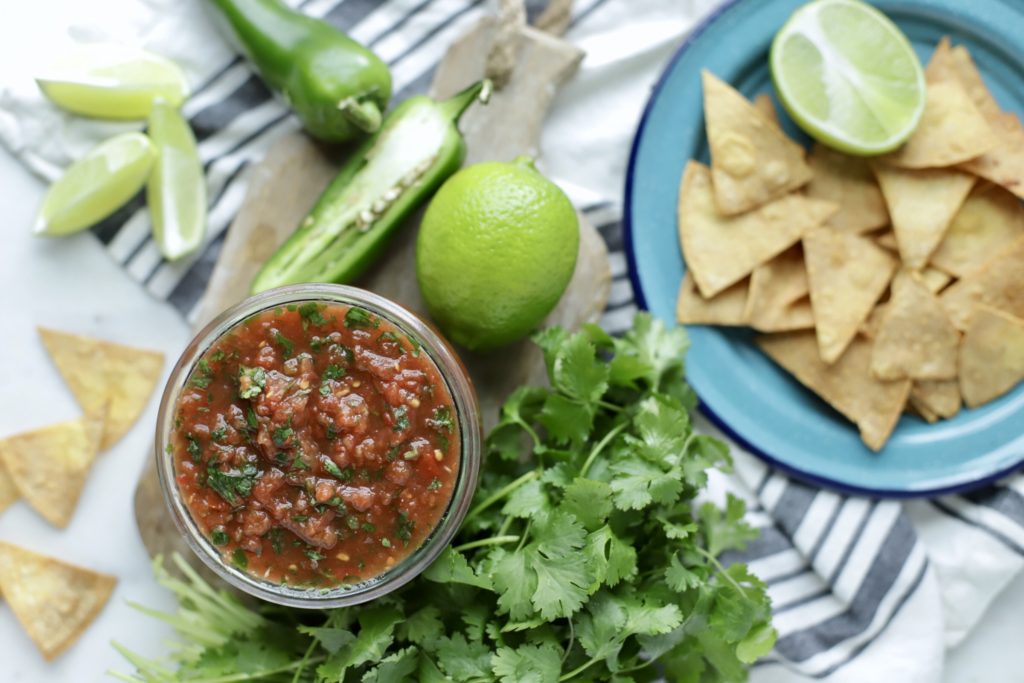 One batch of my Blender Salsa makes about 3 cups and will last 4-5 days in the fridge.  The entire batch is 0 WW SmartPoints on both the Blue and Green WW plans or 1/4 cup serving is 12 calories.  Use for evvverything but be sure to give it a try with Airfryer Tortilla Chips!  #lifechanging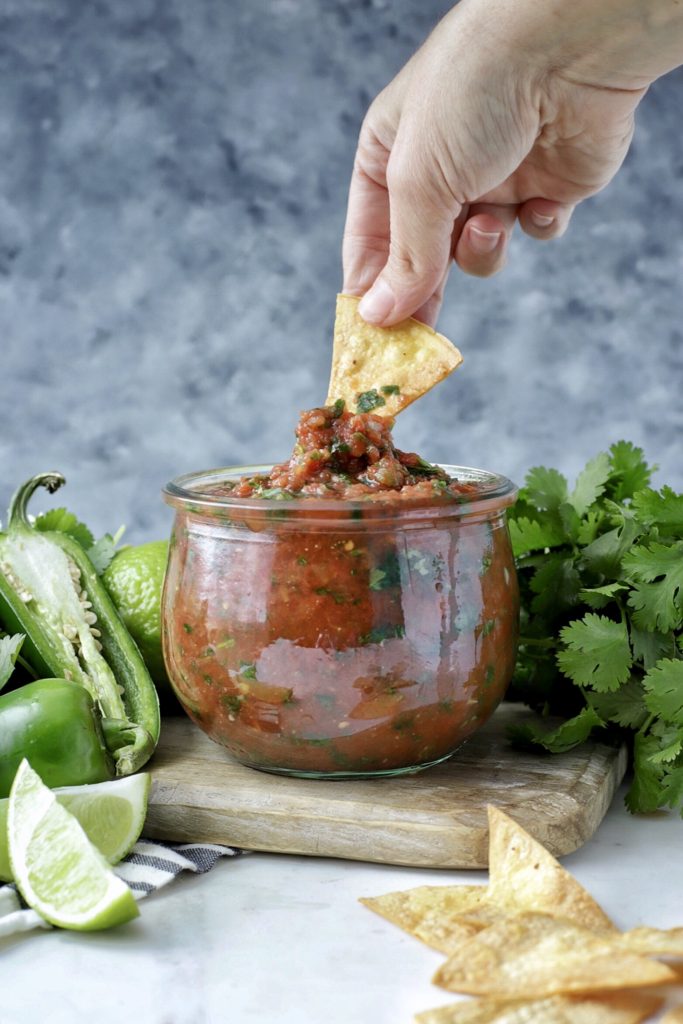 Blender Salsa
Author:
Rachel's Healthy Plate
Ingredients
2 10oz cans Rotel (diced tomatoes with green chilies)
1 clove fresh garlic
½ - 1 jalapeno pepper, seeded (depending on how spicy you like it. You can also leave the seeds in for extra hot!)
¼ tsp cumin
¼ tsp salt
1 lime, juiced
handful of cilantro, to taste
Instructions
Drain the juice from both cans of tomatoes into the blender and add about ⅓ of a can of tomatoes. Add in the garlic and jalapeno. Blend well. (I don't like large chunks of garlic or jalapeno so this will get everything finely chopped).
Add the rest of the tomatoes, the cumin, salt, lime juice, and cilantro and pulse until everything is well blended but still slightly chunky.
Store in fridge and allow to sit at least one hour before digging in. Enjoy!
Notes
The entire batch of Blender Salsa is 0 WW SmartPoints on both the Blue and Green WW plans- use as desired!

Note: If you like fresh onion in your salsa feel free to add in ~1/4 small onion. I'd do this after the jalapeno and garlic, and pulse until the onion is chopped. Then continue with the rest of the ingredients.

Salsa will keep fresh in the fridge for 4-5 days.

Recipe makes approximately 3 cups of salsa. Nutritional info below is for 1/12 of the recipes, ~1/4 cup.

Nutritional information is calculated with MyFitnessPal and may vary based on brands used. Smart Points information is calculated with the Weight Watchers app and may also vary based on brands used.
Nutrition Information
Serving size:
1/12 of the recipe | ~ ¼ c salsa |
Calories:
12
Fat:
0
Carbohydrates:
3
Sugar:
1
Fiber:
0
Protein:
0
I am so excited you are making one of my recipes and I would love to see how it turns out! Make sure to share it on Instagram and tag me @rachelshealthyplate and use #rachelshealthyplate so I can see your creation!