It's fall which means that it's the best time of year – aka delicata squash season!  And that means that it's also the return of one of my all time favorite salad combos.  I've been enjoying this yummy salad for the last three years so I thought it was finally time that it had it's own blog post.  I like to prep a big batch of squash at the beginning of the week and have this salad for lunches.  One big salad is 8 WW SmartPoints on both the Blue and Green WW plans or 325 calories.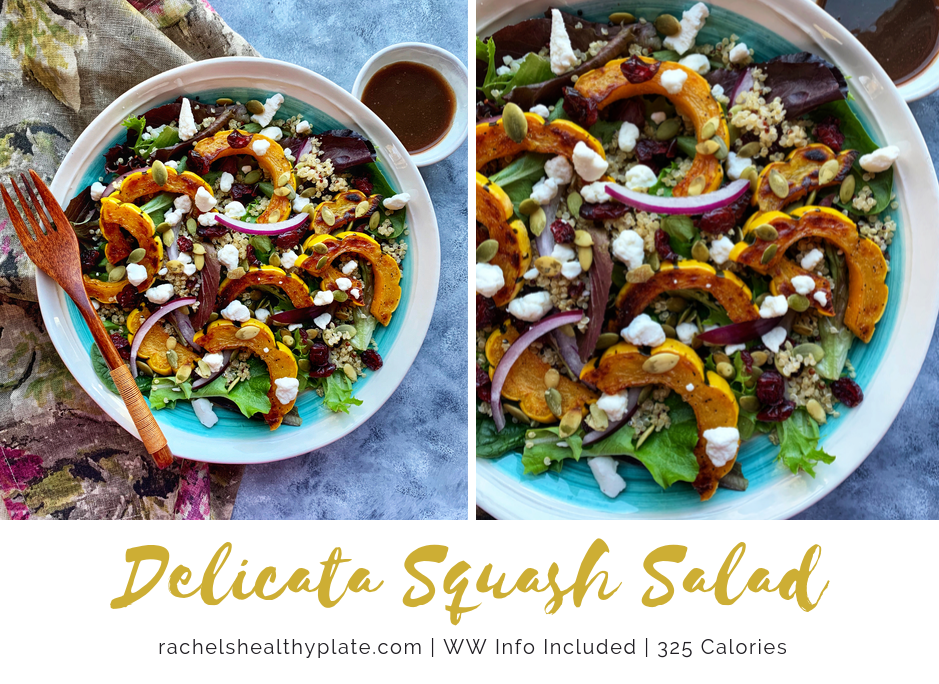 There is a smidge of prep work involved in making the salad because we need to roast up our delicata squash and cook some quinoa.  If you can't find delicata squash in your area you can always substitute roasted butternut squash- no prob!  And if you aren't in the mood to cook up a batch of quinoa you can always grab the precooked stuff.  Look for it in a microwavable bag in the rice aisle or find it precooked in the freezer section.  Once we have our cooked squash and quinoa the rest of the salad is a go.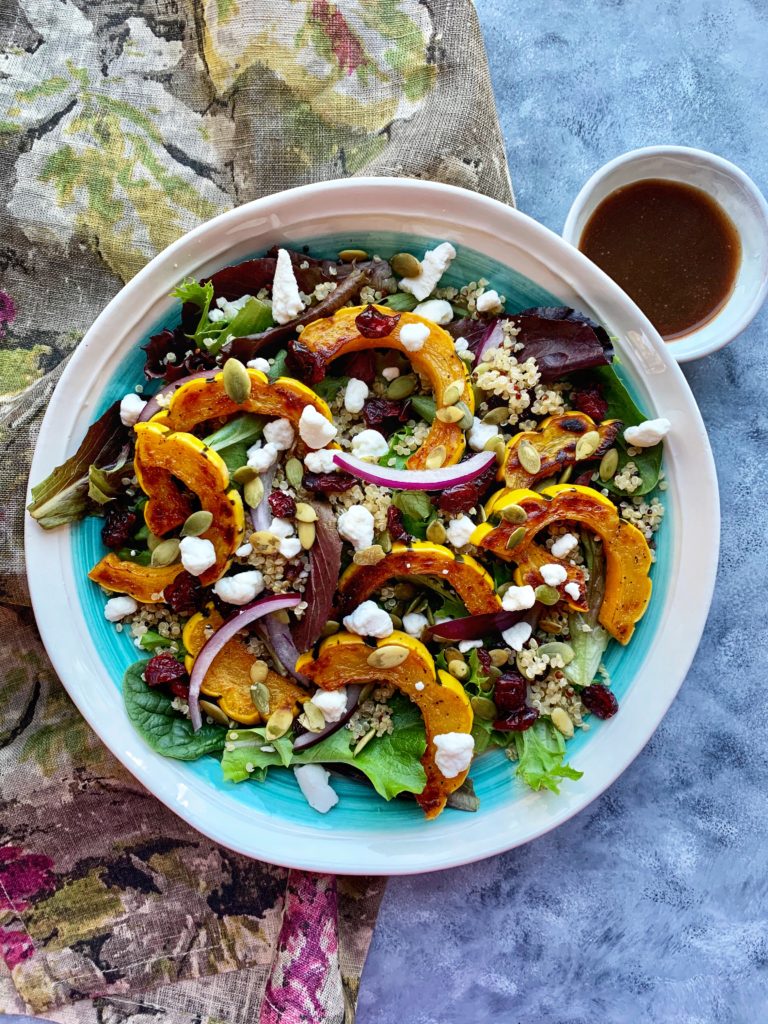 The salad starts with a big bed of mixed greens that we top with our roasted delicata and some cooked quinoa.  Then we layer on a bit of red onion, dried cranberries, goat cheese, and pumpkin seeds.  Balsamic vinaigrette is the perfect dressing to tie all of these flavors together!  Seriously guys, this combo is out-of-this-world.  The roasted squash pairs so well with the creamy goat cheese, sweet cranberries, and crunchy pumpkin seeds.  Give it a try and let me know what you think!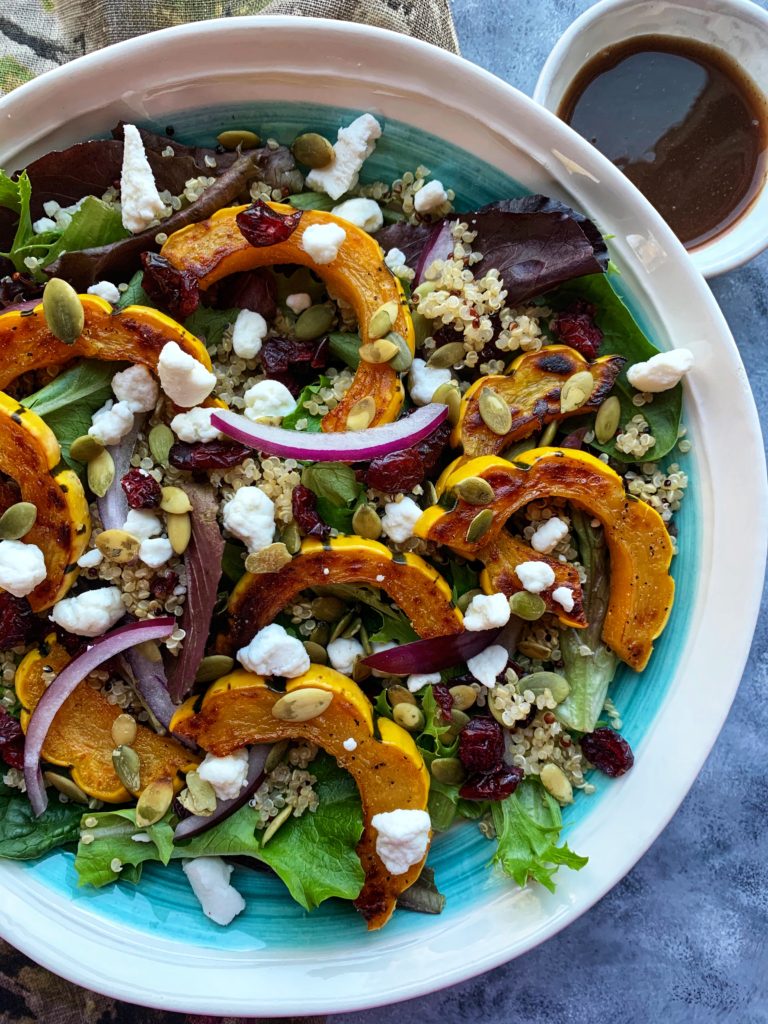 How to Roast Delicata Squash
Preheat oven to 425F.
Cut the ends off of the squash and then cut it in half length-wise.  Scoop out the seeds.
Cut squash into 1/2 inch half-moon shapes and lay flat in a single layer on a baking sheet.  Spray with cooking spray (I like to use avocado oil or pure olive oil spray) and season with a little salt, pepper, and garlic powder (if desired).  Flip and repeat on the opposite side.
Roast for 25-30 minutes, until golden brown, flipping halfway through cook time.
And yes, you totally eat the skin of delicata squash – it's delicious!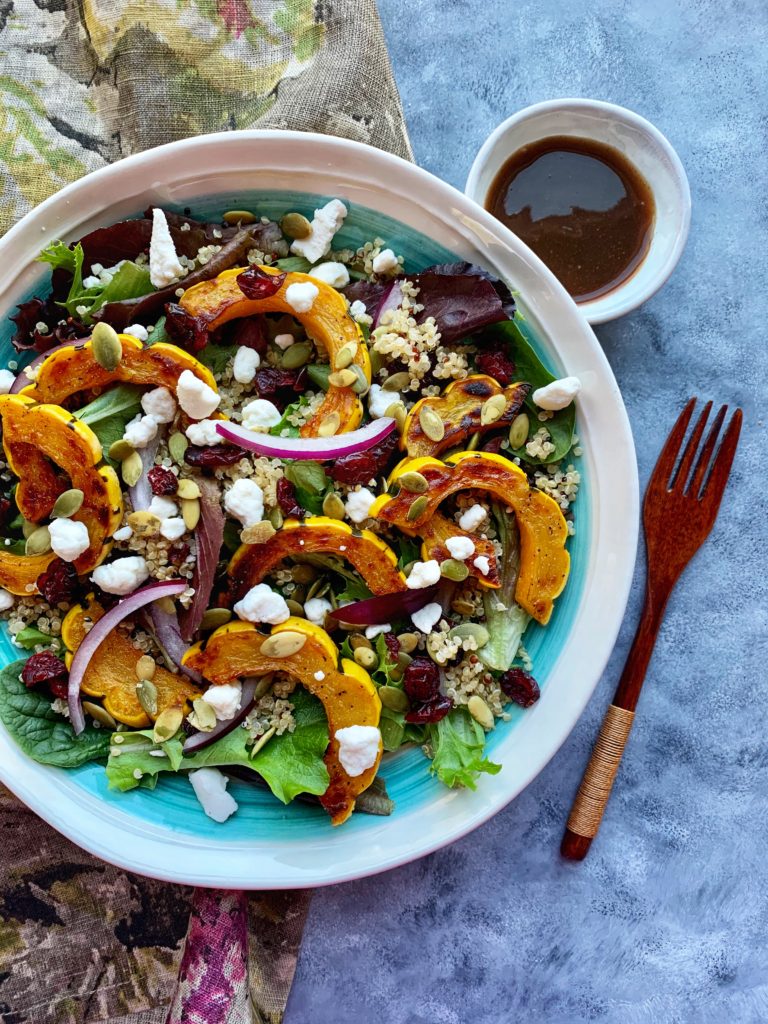 My Delicata Squash Salad is 8 WW SmartPoints on both the Blue and Green WW plans + 325 calories per serving. Enjoy!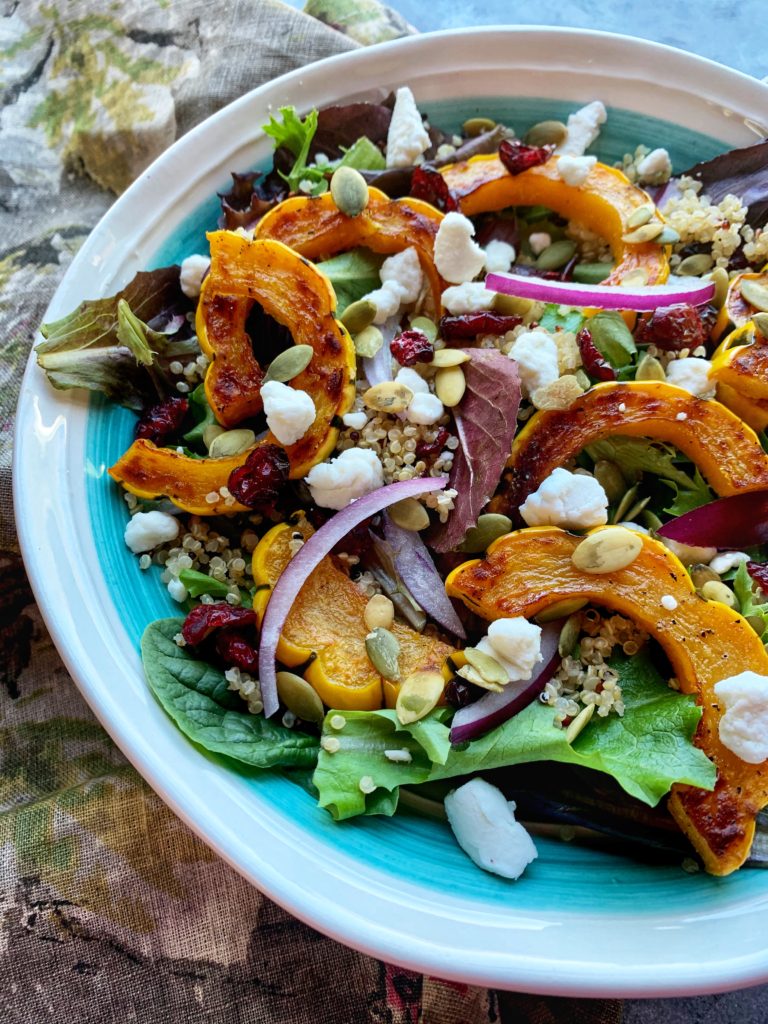 Delicata Squash Salad
Author:
Rachel's Healthy Plate
Ingredients
mixed greens, about 3 cups
roasted delicata squash (or sub roasted butternut), about 1 cup
thinly sliced red onion (optional), about 2 tbsp
⅓ cup cooked quinoa
8 g. dried cranberries, roughly chopped
9 g. roasted pepitas/pumpkin seeds
1 oz crumbled goat cheese
2 tbsp balsamic vinaigrette (I use Trader Joe's FF balsamic vinaigrette)
Instructions
Layer all ingredients into a large bowl. Toss and enjoy!
Notes
Makes 1 large Delicata Squash Salad for 8 WW SmartPoints on both the Blue & Green WW plans.

For multiple servings simply multiply the recipe by the desired number of servings.

Points Breakdown
- greens (0)
- roasted delicata squash (0)
- red onion (0)
- ⅓ c. cooked quinoa (2)
- 8 g. dried cranberries (1)
- 9 g. roasted pepitas (1)
- 1 oz crumbled goat cheese (3)
- 2 tbsp Trader Joe's FF Balsamic Vinaigrette (1)
= 8 WW SmartPoints total

Nutritional information is calculated with MyFitnessPal and may vary based on brands used. Smart Points information is calculated with the Weight Watchers app and may also vary based on brands used.
Nutrition Information
Serving size:
1 salad |
Calories:
325
Fat:
11
Saturated fat:
5
Carbohydrates:
46
Sugar:
16
Fiber:
8
Protein:
13
I am so excited you are making one of my recipes and I would love to see how it turns out! Make sure to share it on Instagram and tag me @rachelshealthyplate and use #rachelshealthyplate so I can see your creation!