I have been on a quest for the last two years… a quest to make the perfect butternut squash soup.  Guess what?!  I finally did it!  I think a perfect butternut soup is both savory and a little sweet, and it has just the right amount of warm spices.  If you've ever had Panera's Autumn Squash Soup (my fav!) then you know what I'm talking about.  This version is very reminiscent of it, and that makes me one happy camper.  My version has a lot less calories, points, and ingredients too – win win! My Butternut Squash Soup makes 8 generous servings at 3 WW SmartPoints on both the Blue and Green WW plans or 180 calories each.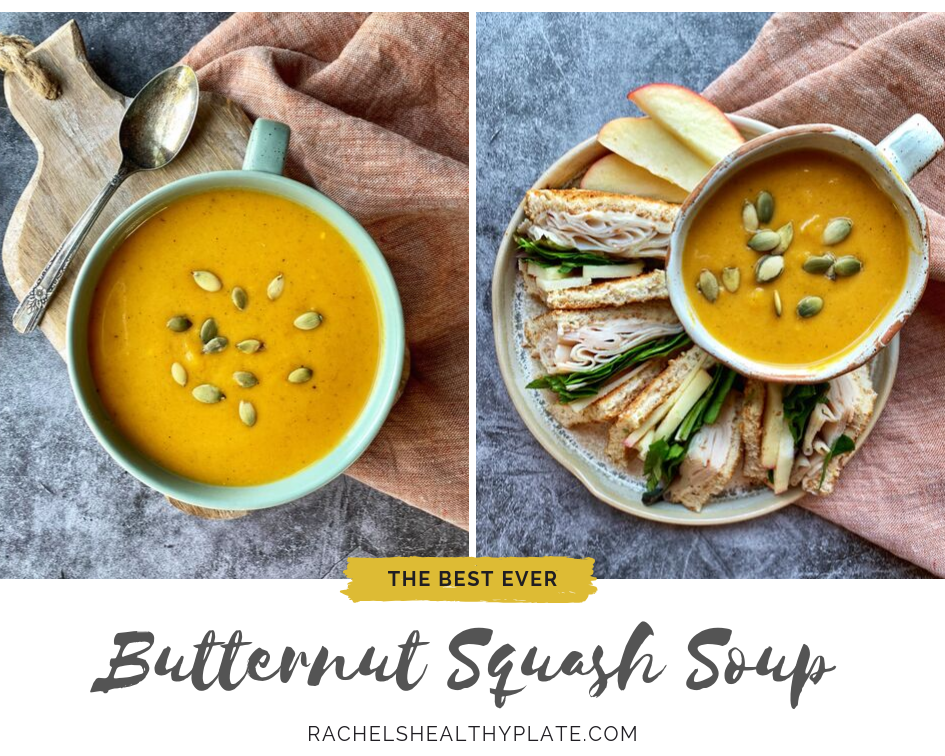 Let's talk about the good stuff inside of the soup, shall we?!  The ingredients are easy and it comes together surprisingly quick!  The hardest part of the soup is chopping the butternut squash – talk about a workout!  Butternut squash is literally one of my least favorite veggies to chop but hey, it's 100% worth it!  If you're running short on time you can always opt to buy the pre-cut stuff which is super convenient.  The base of the soup is butternut squash and a few apples – they add the perfect amount of sweetness without the need to add additional sweeteners like brown sugar or honey that many recipes call for.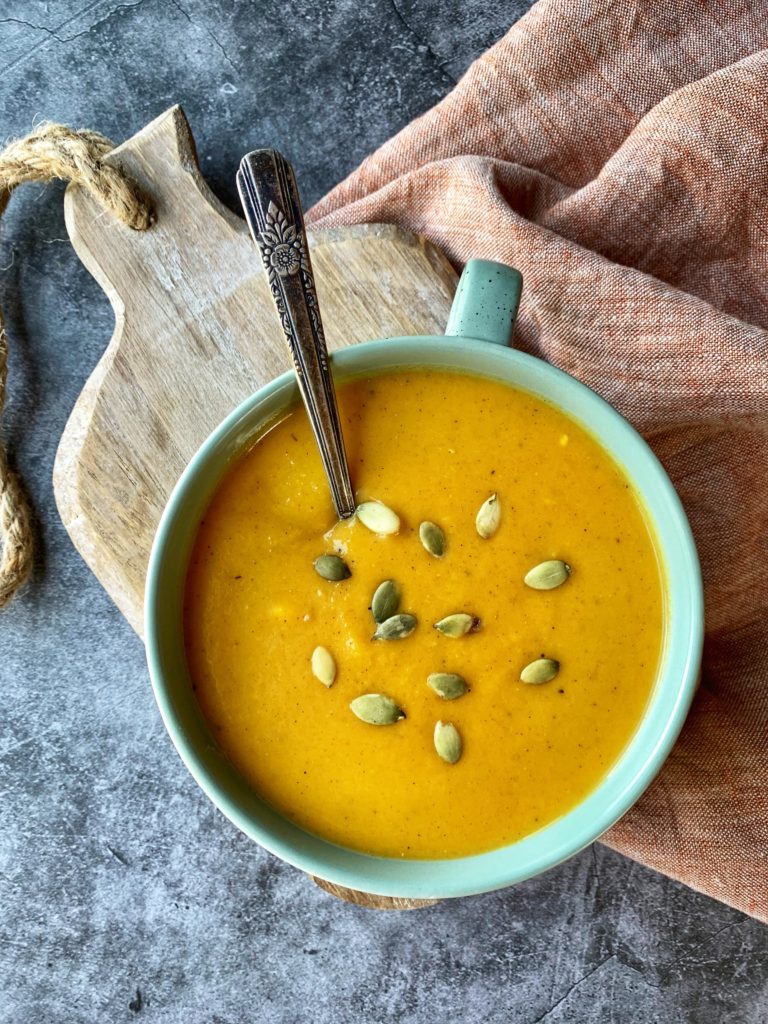 I like to add just the right amount of warm spices with the squash – for this one we a use a little sage, nutmeg, and some cinnamon.  Delicious combo!  The veggies and spices are cooked together with some vegetable broth and then blended until nice and smooth.  The last step is stirring in a little cream cheese for the perfect amount of rich creaminess.  Seriously, ya'll.  This one is a keeper!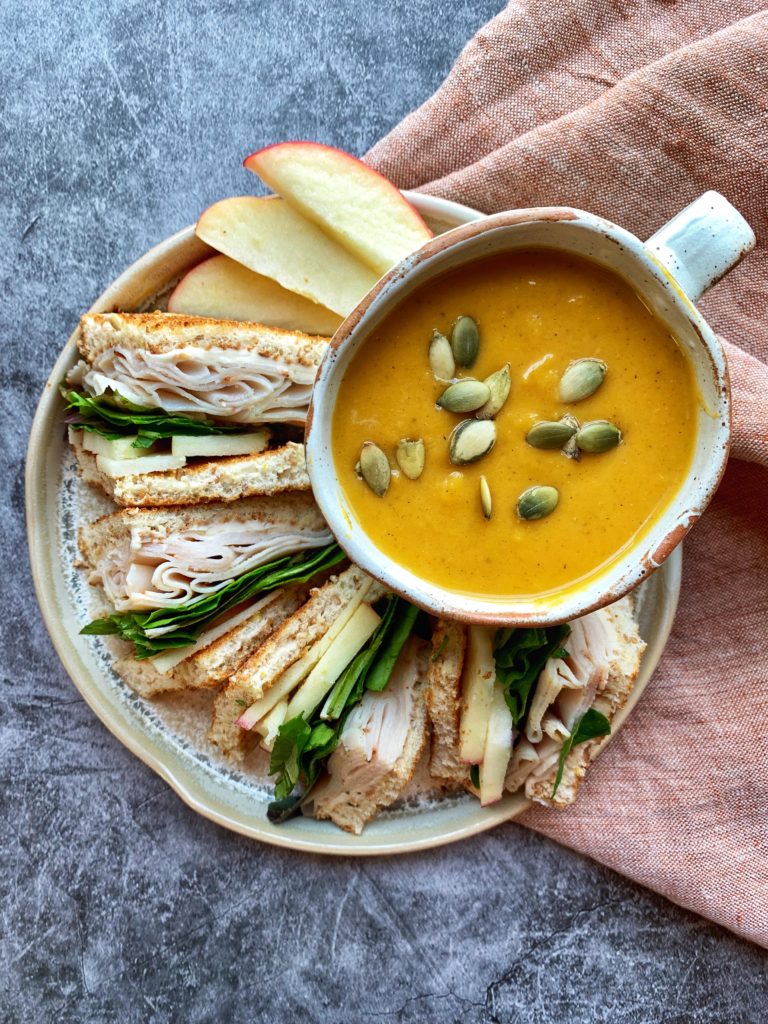 The soup is nice and hearty on it's own and it's a points bargain at just 3 WW SmartPoints.  I usually serve it with with a little something on the side – half of a sandwich or a few crackers and cheese. (A DIY You-Pick-Two!)  My favorite sandwich for this soup is a Turkey, Apple, Swiss sandwich made with turkey lunch meat, a wedge of Laughing Cow light Swiss cheese, a few slices of apple, and some mixed greens.  Seriously, guys, it's a winning combo that you've got to try for yourself!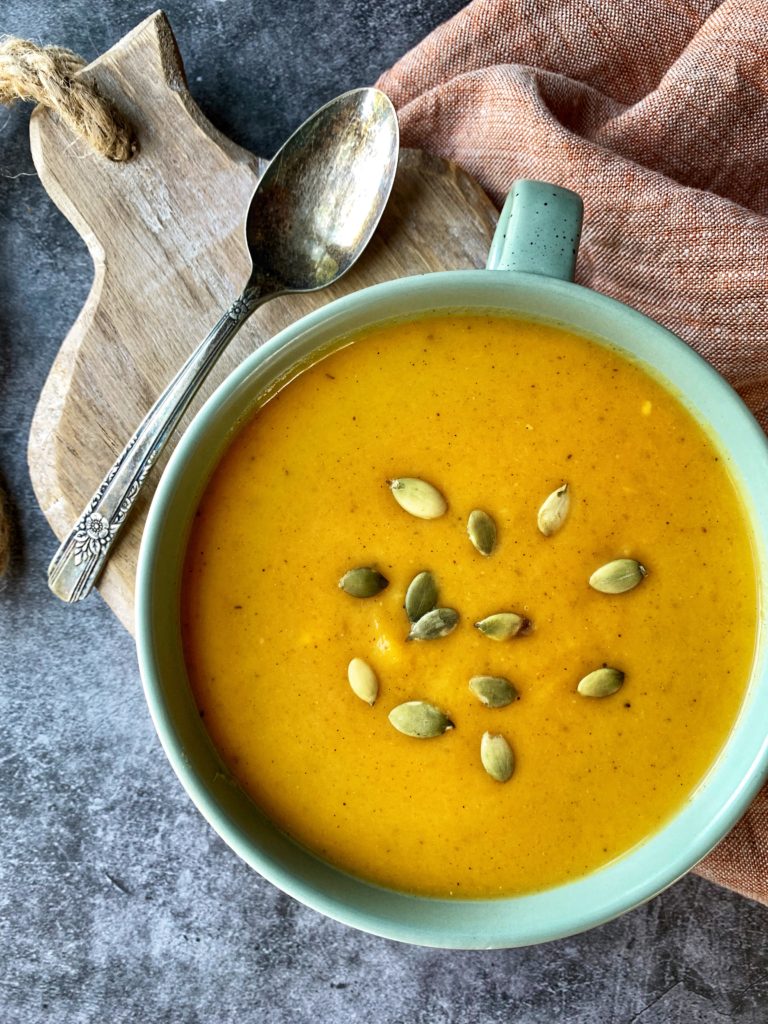 My Butternut Squash Soup makes 8 servings at 3 WW SmartPoints on all three WW plans or 180 calories each. Enjoy!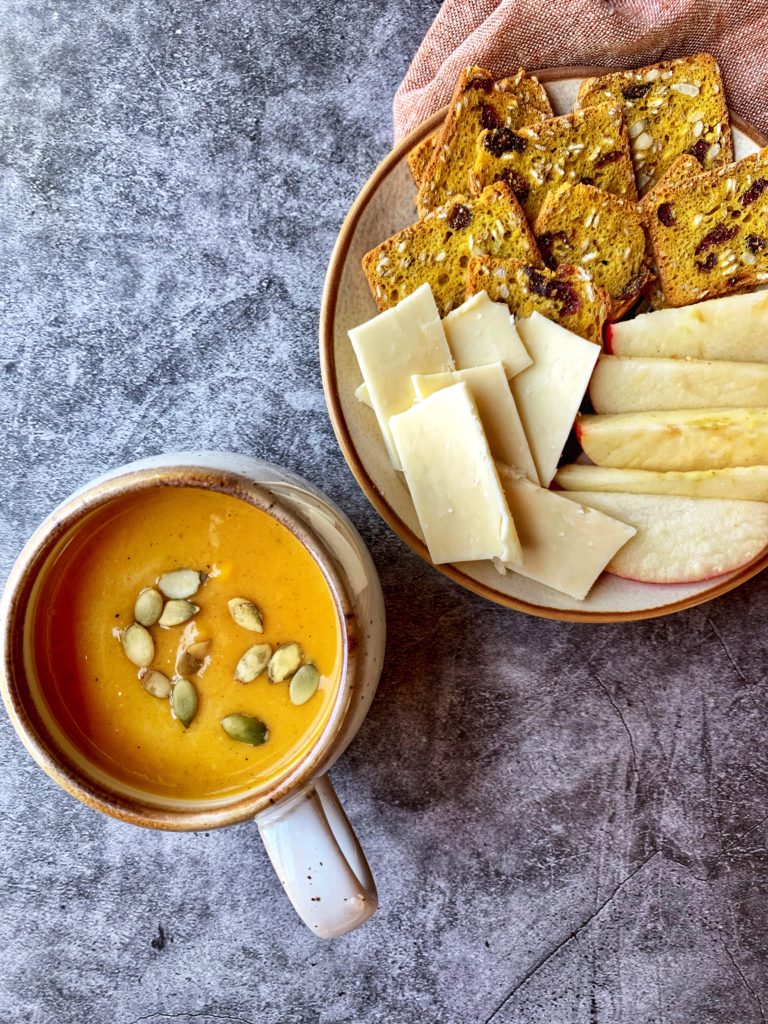 Butternut Squash Soup
Author:
Rachel's Healthy Plate
Ingredients
3 lbs butternut squash - peeled, seeds removed, and diced
3 fuji apples - peeled and diced
2 tbsp olive oil
4 oz ⅓ less fat cream cheese
1 c. diced sweet onion
4 c. vegetable broth
1.5 tsp cinnamon
¼ tsp nutmeg
1 tsp ground sage
1¼ tsp salt
½ tsp pepper
a few pepitas to garnish, if desired
Instructions
Heat oil over medium heat in a large, heavy soup pot or dutch oven. Add onion and saute until onion starts to soften, about 2 minutes.
Add squash and apple. Stir well and cook until a few pieces of the squash start to turn golden brown, about 5 minutes, stirring often.
Add a splash of broth to de-glaze the bottom of the pan, scraping up any brown bits. Add the remaining broth and all of the spices. Cover and simmer until squash is nice and tender, about 15 minutes.
Add the cream cheese to the soup. Using an immersion blender, carefully blend the soup until it's nice and smooth and the cream cheese has melted. Adjust salt and pepper to taste. Enjoy!
Notes
Makes 8 servings of Butternut Squash Soup, (~ 1⅓ cup each) at 3 WW SmartPoints on all three WW plans.

Nutritional information is calculated with MyFitnessPal and may vary based on brands used. Smart Points information is calculated with the Weight Watchers app and may also vary based on brands used.
Nutrition Information
Serving size:
⅛ of the soup, ~ 1⅓ cup |
Calories:
180
Fat:
6
Saturated fat:
2
Carbohydrates:
32
Sugar:
12.5
Fiber:
6
Protein:
3
I am so excited you are making one of my recipes and I would love to see how it turns out! Make sure to share it on Instagram and tag me @rachelshealthyplate and use #rachelshealthyplate so I can see your creation!