Welcome to #FriendFriday where each week I'll be sharing a delicious recipe from one of my Instagram friends!  I find so much inspiration and friendship in the Instagram community so I'm looking forward to sharing some of that here with you.  I'm excited for you to get to know some of my friends, I know you will find them as motivational as I do!  Be sure to find them on Instagram so you can follow their journey and find more of their delicious meal ideas!
Today you are meeting Jenni who is crushing WW and making amazing meals!  She shares tons of great recipes on her Instagram page, @trackitlikeitshot. It must be #waffleweek here because today she is sharing her 2 smartpoint waffle recipe!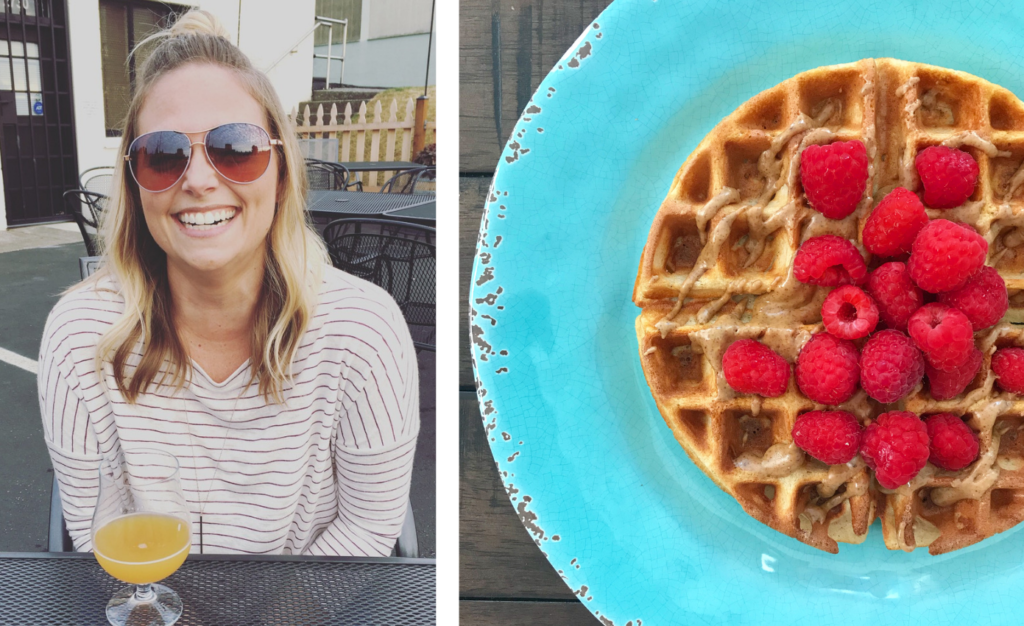 Hi, Jenni, tell us about yourself!
Hi!  I'm Jenni from @trackitlikeitshot over on instagram!  I live just north of Seattle and absolutely LOVE the pacific northwest (even though I was born in SoCal and still consider myself to be a California girl at heart).  Fall is my favorite season and I am now in full on pumpkin spice mode!  My husband and I are really into craft beer (he even homebrews), and we love visiting new breweries and sampling new brews!  One of the things I love most about WW is that I can enjoy the things I love (like craft beer) and STILL stay on track!  WW has also helped me rediscover my love of cooking!  I plan out our meals for the week and try to incorporate at least 1 new recipe a week.  I love being creative in the kitchen and serving delicious food to my friends & family.  My favorite part is plating my food – I truly believe that the more beautiful your plate looks, the better your food will taste!  I've actually learned a lot about plating & photographing my food from Rachel herself!  Whenever I'm laying out my plate, napkin, etc, I always think "what would Rachel do?".
What  motivated you to change your lifestyle?
I've struggled with my weight as far back as elementary school.  I've tried all kinds of "fad" diets in the past, but obviously, none of them was sustainable and I would always inevitably fall off the wagon and gain the weigh back.  I've been an on & off WW member since before I got married (2009) and lost a few pounds before my wedding.  However, after the wedding was over, I sorta lost my motivation and, you guessed it – I gained the weight back.  In November of 2016 I decided that I was going all in on WW for the last time.  I started back up on November 7, 2016, and since then I've lost about 35 lbs.  Earlier this year, I was very close to my goal weight and struggled for months to try & lose the last 2 lbs.  It was mentally exhausting.  In May I completed my first round of Whole 30 and loved every single minute of it!  I felt amazing and really truly enjoyed focusing on how I felt rather than how much I weighed.  When my Whole 30 was over, I was a little lost for a month or 2, not sure if I should continue WW or move to a more paleo lifestyle more in line with Whole 30.  During this time I also joined Orange Theory Fitness and started really focusing on getting more fit as opposed to just losing weight.  After a few months of kind of floundering around diet wise, I realized that the flexibility of WW is really what I need in my life.  Since then I've pretty much maintained my weight, but I can feel myself getting stronger and my running has improved significantly since joining OTF.  At this point in my journey, I've realized that the scale doesn't define me and I am happy with where I'm at!  When my pants start to feel a little snug, I reign it in a little bit, but for the most part, I'm just trying to live my best healthy life!  I know that I feel better when I eat better, so I strive to live this way 80% of the time – the other 20% is craft beer, ice cream & pizza – it's called balance!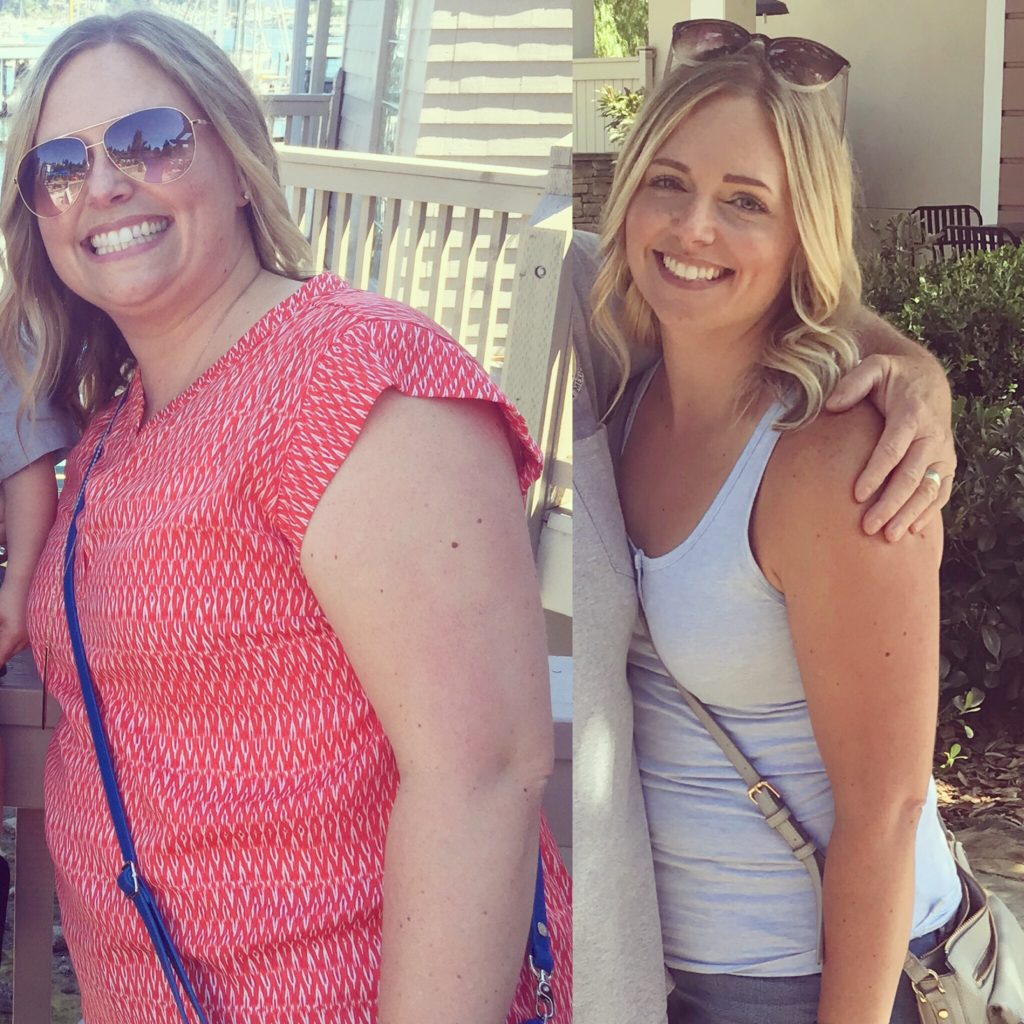 What are you favorite foods to cook?
I love to cook all kinds of things – especially lightened up comfort food.  I love making WW friendly recipes and sharing them with my friends and surprising them with the details that they are healthy!
What is one piece of advice you'd give someone just starting out on a health journey?
Don't give up – change doesn't happen overnight.  Be kind to yourself along the way and keep in mind that there really isn't an "end game" – this is a lifestyle change for good!  It takes work every single day.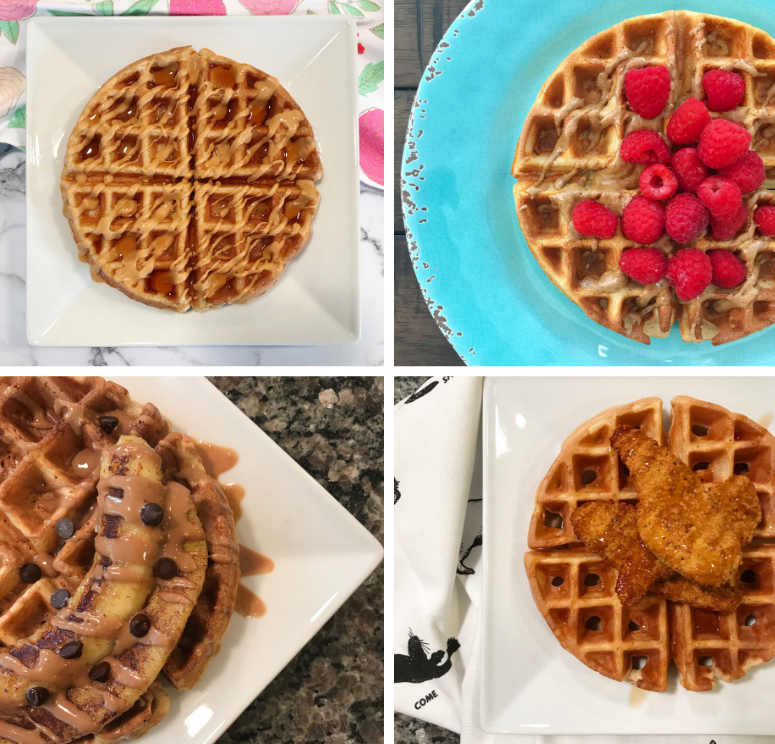 Tell us about the recipe you are sharing today!
Today I'm sharing my 2 Blue WW SmartPoint waffle recipe (4 SmartPoints on the Green plan)!  This is one of my FAVORITE things to make and has been super popular with my WW friends and followers.  It's really versatile – can be made with different toppings and mix-ins – and the batter can even be used for pancakes!  I hope you love it as much as I do!
Jenni's recipe is 2 Blue WW SmartPoints/4 Green WW SmartPoints per waffle – enjoy! Keep up with her journey and find more of her delicious creations on Instagram, @trackitlikeitshot.
2 WW Smartpoint Waffle
Author:
Jenni, @Trackitlikeitshot
Ingredients
¼c Kodiak Cakes buttermilk mix (2 sp)
¼c unsweetened almond milk (0 sp)
1 egg (0 sp)
½ tsp baking powder (0 sp)
1 tb nonfat greek yogurt (0 sp)
splash of vanilla, pinch of salt and dash of cinnamon (0 sp)
Instructions
Mix all ingredients together while preheating your waffle iron.
Spray waffle iron generously with non-stick spry.
Pour batter in waffle iron and cook according to your waffle iron instructions (I usually cook mine a few extra minutes to crisp up the outside)
Top with syrup, nut butter, fruit (Rachel's APPLE BUTTER), or whatever your heart desires!
Notes
Makes 1 waffle at 2 Blue WW SmartPoints/4 Green WW SmartPoints.

Note: You can use other flavors of Kodiak Cakes but the points value may change so be sure to check your nutrition labels.

Nutritional information is calculated with MyFitnessPal and may vary based on brands used. Smart Points information is calculated with the Weight Watchers app and may also vary based on brands used.
Nutrition Information
Serving size:
1 waffle
Calories:
183
Fat:
6
Saturated fat:
2
Carbohydrates:
16
Sugar:
2
Fiber:
3
Protein:
15